Home >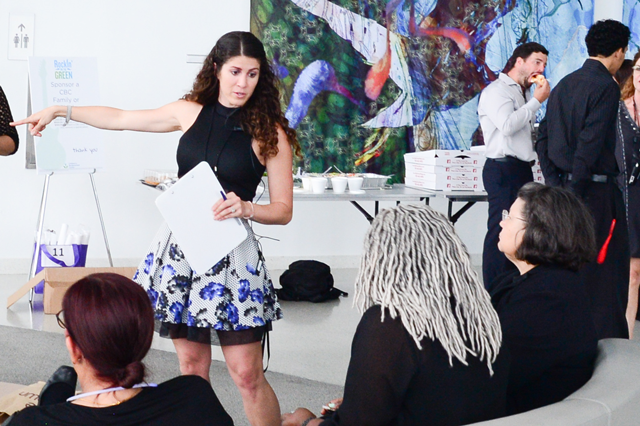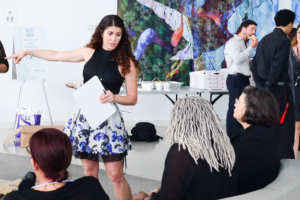 Meet Jenny Lago '05,  Founder of Miacon Auctions and Marketing Director at the Miacon Group. Read on to learn more about her partnership with the Gulliver Gala, advice for current students, and more.
Q: Your boutique silent auction group specializes in building and executing silent and live auctions at corporate and fundraising events. What do you like most about this work? 
A: I love the world of hospitality and events, and working in a space that allows me to be a part of creating events. It gives me the chance to work and meet people who also enjoy this world.
Q: Tell us about your experience partnering with the Gulliver Gala.
A: Gulliver Prep is my favorite client, and not just because I am an alum. The advancement team is very close knit and they understand their constituents. This combination is what makes their events so successful. Working with them does not feel like work; it's fun and I am very proud of the work I do with them.
Q: What experiences did you have at Gulliver that helped prepare you for college and beyond? 
A: I was able to meet such a diverse group of friends that makes working in Miami natural. Miami is very diverse so it works out well. Time management contributed to college and with managing life today. I was a student and a swimmer. Swimming demanded a lot of time in high school and at the University of Florida. I grew up knowing this normal at Gulliver and if not, I would have drowned (figuratively) at university. My teachers, college counselor, and coaches at Gulliver were very supportive of my efforts as a swimmer and student.
Q: What have been some of your proudest moments since you graduated from Gulliver? 
A: The proudest personal moment is becoming a mom to my oldest child, Olivia. She continues to make me proud every day and knowing that I am a direct impact to her accomplishments makes me understand the importance of a parent's involvement and support – just how my parents supported me. My proudest work accomplishment was when an organization reached out to me to continue to take on the role of building and carrying out their silent auction, even after I left working in-house at the organization.
Q: What is one of your favorite memories from high school?
A: The morning announcements on Fridays in the courtyard were always something I looked forward to. This was a time the whole high school got together to support students, teachers, and teams who had done something exceptional. It made us feel good about our accomplishments and also gave us some extra time to socialize. Other standout memories included Signing Day, when I committed to the University of Florida in front of the whole school, while my family was also present. I also will never forget the swimming state meets I was a part of. The last year when I won individually was very special to me – the same year I broke the state record in the 100 yard butterfly. There was so much emotion and with my little sister there, too – I will just never forget those moments.
Q: Are there teachers or coaches that you credit as having been a positive influence on you?
A: Several. Mrs. O' Malley was one of my favorite teachers. She was the first math teacher I ever had that made me believe I was capable of being a good math student. I love her forever and am forever grateful she was my teacher for two years. Mr. Mulder is another teacher who is so special to me. His technique of having students read out loud and consistently in class made me confident (even today) and comfortable with reading and speaking out loud to a group of people. It was uncomfortable at the time but now I see why it was so important. Mr. Sylver was another important person to me at Gulliver. He is so passionate about his work and truly cares about the students – even the ones he didn't directly teach (like me). He was always willing to teach anyone who would listen. He was an important figure to me while I worked at Gulliver as a Communications Assistant in the Advancement Department as well, and taught me a lot about shooting/editing film in the short time I was able to work out of his office. Lastly, Sully – or Ms. Sullivan – was an indirect impact. She was a confident, female coach who was respected because of her hard work and dedication to her student-athletes. Many of the female athletes, like myself, looked up to her and I am grateful for her as a role model, and now I love working with her.
Q: What advice would you give to current students?  
A: I would say not to stress over knowing that their college major was the "perfect" path for them. No matter what you start working as, it can either be what you do, or a start to whatever you do, or make of yourself.
Q: What alumni events have you attended and which do you look forward to the most?
A: I loved the happy hour events that were hosted off campus, that were dedicated to networking. I went to a few of the happy hour networkers at Scotties Landing in the Grove before it closed. I love the annual Homecoming game because it welcomes families and it's so special to see my friends and all of our kids playing together. It's full circle. Plus, its on the pool deck and that's always going to feel like home to me.