Home >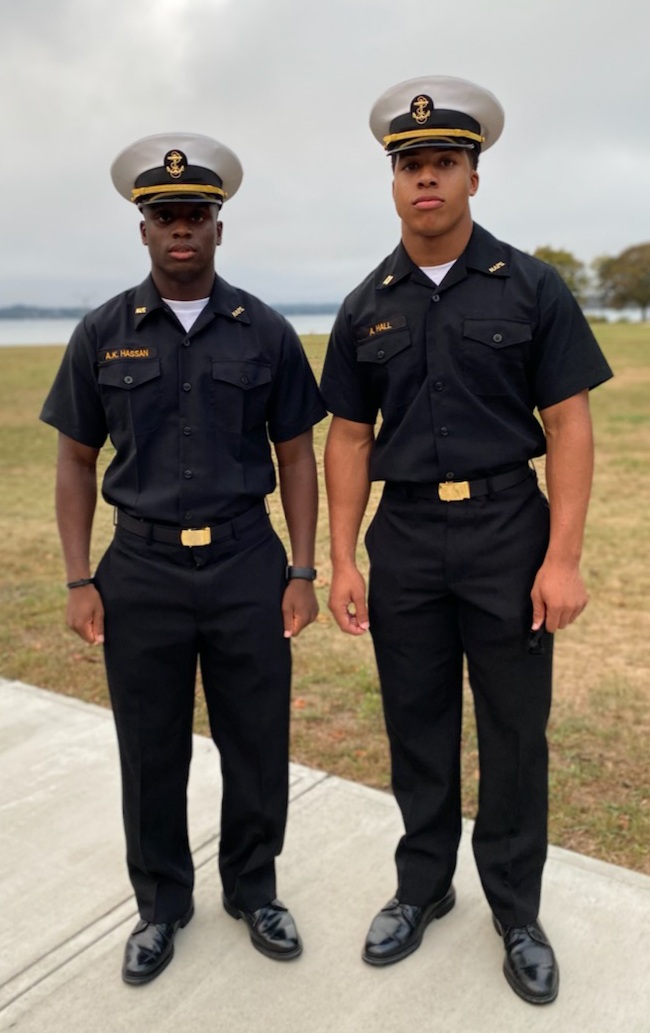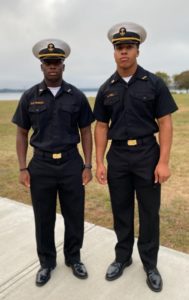 Last year, Anton Hall '20 and Amin Hassan '20 graduated from Gulliver at the height of the COVID-19 pandemic with plans to play football at the United States Naval Academy. In the words of their Gulliver Head Football Coach, Earl Sims, "Anton and Amin are both products of amazing families, both special in their own rights. They are talented young men who possess unique qualities and desire to become great. Internally driven by Anton's passion and grit and Amin's desire and determination, both young men were compelled to do what was necessary to be great. These two young men, along with others in their class, developed their voice by their example and it was a distinct honor and privilege of mine to coach them."
As talented student-athletes on the field and in the classroom, we were excited to learn about their experiences as they take on their first year of college. We recently caught up with Hassan who gave us insight to being a freshman at Navy! Read on to learn about his experiences in college, his favorite high school memories, the many Gulliver faculty that helped prepare him for this new journey, and more!
Q: What were some of your favorite memories from your time at Gulliver, either on or off the field?
A: My favorite memories at Gulliver off the field were the team bonding opportunities throughout my high school years. Every summer after workouts we would go to one of my teammates houses and bond with each other to make a better connection on the field and off the field.
Another one of my best memories at Gulliver was on December 18, 2019. I signed my Letter of Intent to the United States Naval Academy with my parents and family members behind me in support and my best friend, Anton Hall '20, next to me also signing his letter of Intent to the United States Naval Academy.
Q: As a Gulliver alum, what advice would you give to current students?
A: Take advantage of work, do it, get extra help on your homework to understand the concept, and apply it to your life because believe me, you are going to need it.
Q: Now that you are halfway through your first year at the United States Naval Academy, how did Gulliver help prepare you for this new step in your journey?
Gulliver helped me overcome many challenges, specifically being shy. Gulliver gave me the confidence to approach Professors today to ask for help when needed and the tools to improve myself in college and in life after high school.
Q: Are there any Gulliver teachers or coaches that you credit as having been a positive influence on you?
ON MY GOD, I think I could go on and on about this! Coach Sims, wow, he is one of the greatest coaches I have ever played for – why? Because he taught me how to speak in front of a large audience, he showed me the ropes as an African American how to handle school and life situations on and off the field. Coach Sims taught me how to have courage, honor, dedication, to be humble, and how to trust the process.
Coach Hall taught me to never give up and to keep fighting – to always maintain that attitude.
Coach Sed showed me what the word purpose really means and to always have the will to do anything with a purpose for my family.
Coach Cal taught me how to stay motivated, to always keep my head, and to never show weakness.
Coach Maddax showed me how to be brave in any situation life throws me.
I've known Coach Eddie for so many years and we shared a special bond that couldn't be broken. He helped make me a better person, reminded me to be strong and stay determined, and taught me how to be a fighter through determination and grit. I will never forget the times we had together over the four years of my high school football career, and I'll always remember our saying, "We fight, we fight, till we can't fight no more, can't fight no more, lay down, bleed a while, get back up, fight some more, all for one, all for all, all for the Giants."
I want to also acknowledge my Math teacher, Coach Cruz. He showed me ways to approach life in an positive manner, how to study, and how to understand many math concepts.
And last but not least, my 8th grade English teacher, Mr. Johnson. He always believed in me, he understood my struggles, and he taught me to always have a passion to better myself.
Q: What are your interests outside of football?
In addition to football, I am interested in starting a program to help kids get off the street, find success in their lives, and guide them onto the right path.
Q: What are you currently studying?
Currently, I am at Prep in Newport Rhode Island taking Physics, Math, English, and Chemistry.
Q: What advice would you give to younger athletes who are striving to attend a great academic school, as well as play football at the collegiate level?
Remember these three words: honor, courage, and commitment. Look up these words and comprehend what means, grasp it, and take pride in yourself as you head onto the next stage.
Q: What has your experience at the United States Naval Academy been like thus far? What has been the biggest adjustment?
My experience is incredibly different. I left home as a young man and will be returning as a very intelligent man with confidence and motivation to speak his mind and talk with authority. The biggest adjustment thus far has been learning the military lifestyle. It's hard but nothing in life is easy or given to you, you have to earn it.
Q: What has life as a college student-athlete been like?
Life as a college student has been outstanding for me. This has always been a dream of mine, and I get to live it every day.