Home >
Through our Faculty/Staff Spotlight series, we invite our community members to get to know Gulliver Prep teachers and staff members across every division. This week, our spotlight features Dr. Torey Chatman, Student Support Liaison. Read on to learn more about her role, her favorite thing about our school, and more.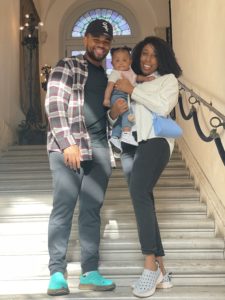 This is your first year as Student Support Liaison – a role designed to provide strategic support to Middle and Upper School students as they transition into and navigate Gulliver's academic and social landscape from a variety of cultural backgrounds. What does this look like on a daily or weekly basis?
As Gulliver's Student Support Liaison, this role consists of daily support, mentorship and ultimately being a resource to a diverse group of students who are navigating Gulliver's academics as well as the social landscape of an independent school.
Why is this type of role important to you, and why is it important for our students?
Student support has been at the forefront of my career for the past 10 years. I love serving students and being a resource to them as they navigate academia. Being in my role has allowed me to empower and inspire our students daily. I deem this position important to our students because it allows them to have additional support as they navigate Gulliver Prep and thrive to do their best.
What is your favorite thing about our school?
My favorite thing about Gulliver is the community of people. From day one I felt welcomed by the students, staff, and administration. Being welcomed into the Gulliver community has made my transition seamless and has created a sense of belonging.
What is one thing people may not know about you? Hidden talent, hobby, etc.

One thing that people may not know about me is that prior to joining Gulliver Prep I coached college basketball for 10 years at St. John's University, Binghamton University, and Caldwell University.
How do you personally seek to honor Black History Month?
I personally seek to honor Black History Month by supporting Black Owned Businesses/Designers. To name a few: Phase, Mielle, Target Black History Month Collection: Celebrate Black History Month.
Raider Rapid fire!
Your go-to afternoon pick-me-up: Seeing my daughter, Tatum Lon.
An accomplishment you are most proud of: Completing my Doctorate Degree in 2022.
Favorite weekend activity: Swim lessons with Tatum.