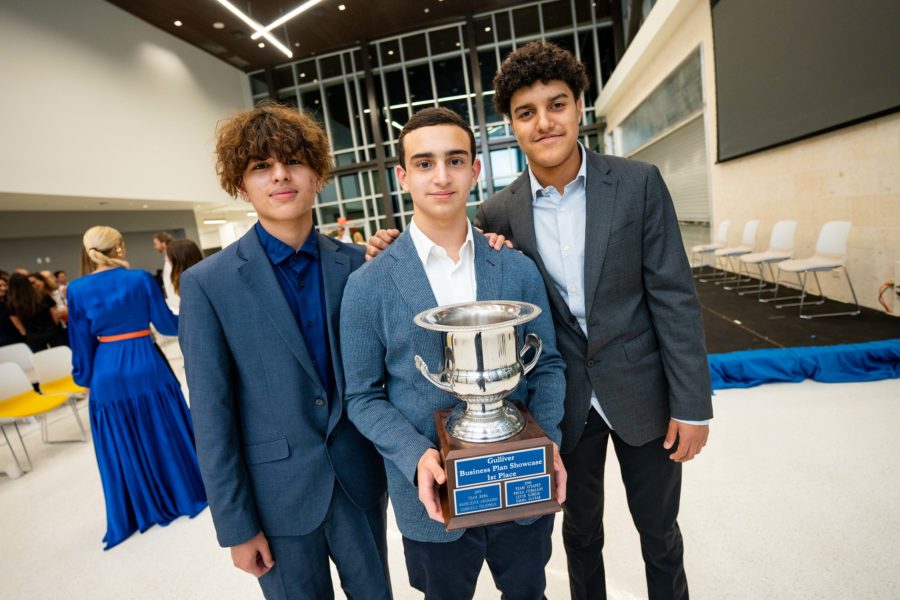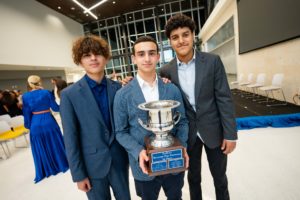 On Tuesday, April 4, 2023, the International Business and Entrepreneurship Signature Academic Program hosted the 9th Annual Business Plan Showcase. Students competed in classroom business plan competitions, with the top six teams moving on to pitch their original business ideas to a panel of judges. The panel was comprised of alumni and parents including Ariel Acosta-Rubio P '19 '23, Clara Bullrich P '30 '32, Vincent Lago '96, Ivan Mladenovic '02, Alejandra Stavrinides P '21 '22 '24, Dan Vigdor '88, and Shane Vernon '05. This year's final rounds took place in the Commons at the Center for Student Life, as teams presented business plans that covered a wide spectrum of problems and opportunities.
The winning team of Christian Tcherassi '25, Dylan Calero '24, Jordan Mansfield-Jimenez '25, and Louis Naranjo '24 created Tablid: An online restaurant reservation company that offers the feature of bidding for tables. The group will now present their pitches at the Innovate South Florida Competition on April 19.
In second place were Valentina Fernandez '25, Laura Solorzano Giardinelli '25, Milla van Gastel '25, and Julia Fogel '25, with TechSafe: An impact safety button that can be used in any mountain sport to ensure you're never alone, and AutoMotion: A sensor that detects when a resident of an Assisted Living Facility falls, took third place, presented by Benjamin Pasquier '25 and Andres Schmidt '24.
Also competing in the showcase were Walker Allen '25, Marena Goodman '25, and Ruthie Neuhaus '25 (Schoolization); Isabella Berto '24, Mora de Maria '24, Paulina Guerra '24, and Alia Mangalji '25 (Child Check); and Carolina Alfonso '24, Vera Lopresti '25, and Ariella Zecchini '25 (Press-No-Stress).
To view photos of the competition, click here.