Home >
Student-athlete Hailey Brenner '24 is an outside hitter for the varsity girls' volleyball team. She was recently recognized as a First Team All-Dade selection by The Miami Herald. Read on to learn more about her favorite part of volleyball, how she gets ready for match day, and more!
How has your experience been as a student-athlete at Gulliver Prep?
Being a student at Gulliver Prep has led me to meet new people and those new people, specifically my teammates, have helped me get out of my comfort zone. My teammates helped me loosen up as a person a little bit, and to have more fun when doing things. The teachers are willing to work around crazy schedules and hours and really want to see us succeed. The athletics staff does a great job supporting us and our endeavors both on and off the court.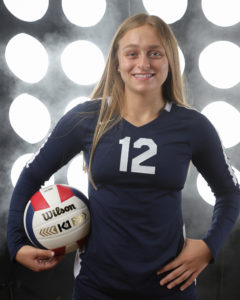 How long have you been playing volleyball?
I've been playing volleyball for around four years and it was the first sport I fell in love with. I have played most of my volleyball at Miami Hype Volleyball Club with Coach Emilio Rodriguez, who is also the Head Coach here at Gulliver. My favorite memory as a Raider is definitely winning our district championship in October and also beating some of our tough rivals earlier in the season.
What has been your favorite part and the most challenging moment in your sport as a Raider?
The most challenging thing this season has been going through some mid-season slumps and pulling myself out of them, as well as overcoming adversity as a team and finding ways to grow. My favorite part of being a Raider is the culture around athletics; the athletic administration really cares about us as athletes and as kids, and the school has tremendous respect for athletes.
Tell us a little bit about your experience this season.
This season has been so much fun. My teammates and I are extremely close which helps create really good chemistry while we are on the court. We find very odd motivations to help us grow like our team mascot Moo-Moo the cow, and the cheers that we do before each game religiously. We have had a very successful season so far and we are not done yet, this team has a lot to give and we will fight down to the end. Everybody on the team, including our coaches Emilio, Camilo, and Sheila, works extremely hard and really loves what they do, so it makes it a great atmosphere where we can learn and prosper as athletes and young women.
How has your family influenced your pursuit of volleyball?
I've always grown up around sports; my dad was a college football referee and refereed many bowl games including the national championship in 2010, and my grandfather was the first Head Coach and the Assistant Coach of the Miami Heat for a really long time. He is still part of the organization so I have always played sports and been around sports. My brother also plays basketball at Emerson College in Boston.
What's something that not a lot of people may not know about you?
I have been in two NBA Championship parades.
How do you get ready for your big games? What's on your pregame playlist?
On big game days, I really like to get off my phone and play a board game or cards to relax myself and be able to lead my team in the best way possible. I have to say I am the worst person to ask for aux, so I have to give props to my teammates who play great music that gets us hyped.
What is your personal goal and motivation to keep going?
My personal goal is to play Division I volleyball in college and to keep growing as a person and player to be the best for the people around me. My motivations come from my family who are always there for me and continue to push me day in and day out.