Home >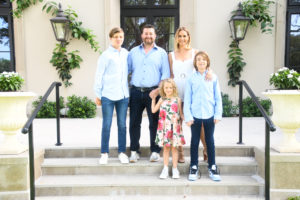 Gulliver is excited to announce a generous gift to Transformation. Together. 2026. – the school's first comprehensive capital campaign.

Brooke and Benjamin R. Gettler P '25 '27 '34 joined the Gulliver community in 2014. Their children – Reed, Trip, and Sloane – have experienced much of what Gulliver has to offer over the years, each of them forging their own path.
All three of our kids have benefited greatly from Gulliver's top-notch teachers, academics, and athletic programs. Our children have different strengths, and Gulliver is able to provide a path for each of them on a highly personalized level.
The Gettlers learned about the school's master plan and saw the need for Gulliver's unparalleled programs to have world-class facilities. Noting that Gulliver's athletic programs have been a source of camaraderie and self-esteem for their children, and that physical fitness is an essential part of education, the Gettlers came forward with a transformational gift to name the Gettler Family Fitness Center, which will be located in the new Athletic Center on the Upper School Campus.
To learn more about Gulliver's capital campaign, please visit gulliverprep.org/campaign.