Home >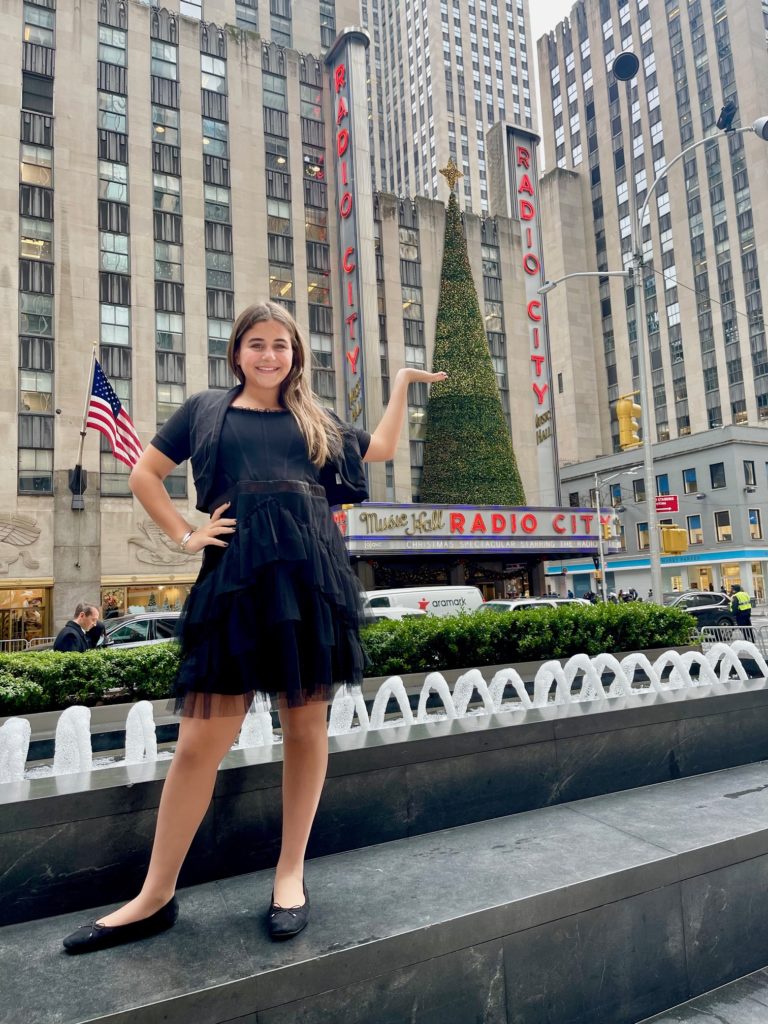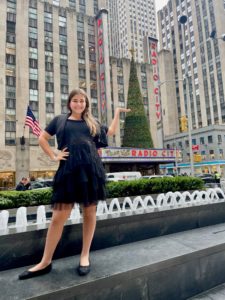 Siena De Maria '28 had a unique opportunity to perform at the iconic Radio City Music Hall in New York City, taking the stage with a group of talented singers from across the country. At Gulliver, Siena is deeply committed to the performing arts. Her involvement in chorus and drama takes up a lot of her time, but when she isn't practicing or rehearsing, she enjoys sports and loves spending time with her friends Last year, she was a member of the JV soccer team, and this year, she is participating in the Musical Theater Enthusiasts Club. 
Read on to learn more about Siena's recent performance, her passion for singing, her Gulliver experience, and more.
You were invited to perform with a group of students from all over the country to open for the Christmas Spectacular starring the Radio City Rockettes. How did this opportunity come about? 
My mother read about this audition on a platform where castings and auditions are posted and I applied. I had to send a self tape singing a Christmas song. It was a nationwide audition, and they got back to me telling me I was selected. I was so excited! I was selected to perform last year but the show got canceled for COVID, so they gave us the opportunity to do it this year. 
How did it feel to be on stage singing at the iconic Radio City Music Hall in New York City? 
Incredible! It is the biggest stage I've ever been on. It's huge! It's always been my dream to perform on Broadway. Surprisingly I wasn't nervous at all, and I enjoyed every second of it. It really helped to be accompanied by a group of super talented kids. One thing that caught my eye was how big the curtain was! Time really flies on stage; I would have stayed there forever. 
When and how did you discover you had a passion for singing? 
For as long as I can remember. My mom tells me I started singing even before I could talk. I was always singing. One day my mom heard me singing in the car while she was driving and she told me she couldn't believe what she was hearing. At five years old I knew Matilda the musical by heart. At seven, I knew every Wicked song. I have taken voice lessons since I was six and I've been passionate about singing forever! 
How has your experience with the performing arts been at Gulliver?
I've been at Gulliver for one and a half years now; I moved from Argentina in 2021. Since the very beginning I've been involved with the Performing Arts Department. I take Advanced Chorus and Advanced Drama, and have participated in almost every performance and even last summer in Broadway camp. I also got to sing the National Anthem at some school sporting events and at school. 
It's really important for me to find a place where I can share my passion with other kids with the same interests. The teachers are amazing, and it is really impressive how compassionate they are with each of us. Mrs. Martinez, our chorus teacher, is the best. She is really passionate about music and so sweet, and she is the best teacher. Mr Orizondo and Mrs. Groves, our drama teachers are incredible, and they helped me grow a lot as an actor in the last year. They all teach me to work hard for my dreams. I can't wait for this year's spring musical. We are presenting Seussical, and we are rehearsing very hard every day to give everybody a great show. See you all there! 
Which Gulliver teachers have had an impact on you? 
That would definitely be Mr. Orizondo. I was entering school in sixth grade, my first year in Gulliver.I found out that the spring musical was going to be Matilda, my all-time favorite. I auditioned and I got called back, but sadly I didn't get in. I was crushed the day the cast list was posted. Mr. Ori approached me and told me that this was not going to be the last opportunity, that I would  get more opportunities in life. I didn't understand it at first. But what he was really doing was teaching me how to be resilient – to know and learn that things do not come for free and that I would have to work extremely hard for the next one. And so I did. 
At summer camp, I got to play Cinderella. I was really happy and the show turned out amazing. In the winter play we did Charlotte's Web and I got a role there, too. It was a great show with amazing people. And lastly, this year I got the role of Bird Girl in the musical, Seussical. Even though Mr. Ori was tough at first, he was clear on one thing: he believed in me. He knew what I was capable of. He is the one who encourages me to keep doing what I love. I would also like to mention  Mrs. Groves. She inspires me every day with her love and passion for her work. 
How would you say that being a student at Gulliver has allowed you to grow, discover new passions, and experience new ideas and opportunities?
Gulliver is a school that helps you grow in whatever area you think is "your place." Whether it is sports, design, fine arts, engineering, etc., Gulliver is helping me grow, and better yet, never stop growing. It is full of opportunities to perform and to learn, individually and as a team. I can't wait for the next events coming up! 
What are your future aspirations?
My dream is to be a singer, to perform on stage, and to go to Broadway! I would love to go to a music conservatory when I finish school, but in the short term, I would like to perform as much as I can. Every opportunity is a chance for growth.