Home >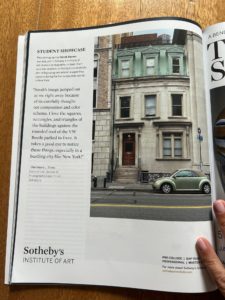 During the summer preceding her junior year, Sarah Karam '24 took her talents to New York City where she attended the Sotheby's Institute of Art Pre-College Summer Institute alongside hundreds of her peers from across the country. From learning the intricacies of running galleries and museums to exploring painting and drawing techniques throughout history, these two-week courses are designed to engage, inspire, and fuel creativity.
All Summer Institute students chronicle their adventures and inspirations in a summer-long photography contest, and Sarah eventually found herself a published photographer, winning first place and seeing her work featured in an issue of Sotheby's magazine.
A member of the National Honor Society, National English Honor Society, and National Art Honor Society, Sarah is also a part of the varsity girls' basketball and girls' lacrosse teams. She will soon assume a leadership position with Achieve Miami, a service learning program that provides educational and enrichment programs that demonstrate the power of students learning with and from each other, and is active in Gulliver's Spanish Club and Don't Close Your Eyes Club, which spreads awareness about human trafficking.
Read on to learn more about Sarah's love for photography, why she chose to submit her winning photograph, and more.
Your work was published in an issue of Sotheby's magazine for winning The Sotheby's Institute of Art Pre-College Photo Contest. What does this honor mean to you, and how does it inspire you to keep creating?
As an artist I have always dreamed about one day getting my artwork featured on the pages of an art magazine. Accomplishing this feat at such a young age and having my artwork selected out of hundreds of submissions is a dream come true. This experience has raised my self-confidence and has encouraged me to continue doing what I love.
What inspired you to take the winning photo, and why did you choose to submit that particular photo into the contest?
New York City is famously known as "the city that never sleeps" and I selected this picture because it captured a very rare and tranquil moment in an otherwise chaotic city. When capturing this image, my aim was to portray a balanced interaction between opposing elements. In the picture, there is harmonious coexistence between the sharp angles of the large building and the curves and roundness of the petite car. The matching shades of green between the car and building help to accentuate a sense of unity between contrasting shapes that work together to create an image that is visually pleasing.
You attended the Pre-College Summer Institute in New York City. How did you find out about this opportunity, and why were you drawn to it?
Prior to attending Sotheby's Institute of Art Summer Program, I was planning on attending a six-week pre-college program at the Rhode Island School of Design (RISD). With my junior year quickly approaching I felt that it was important that I explored my intellectual passions and areas of interest in order to discover potential career paths prior to attending college. My plan was to experience various areas of the art world and find what peaked my interest the most. Sotheby provided me with an opportunity to do just that.
How long have you been doing photography, and how did you discover you enjoyed it and had a talent for it?
I have always been fond of taking pictures for as long as I can remember. I recall as a child spending my summers traveling around the world with my family and wanting to capture those special moments. Taking pictures was an invaluable way of holding onto and reliving those priceless memories.
What are one or two things you learned at the Institute and/or from your time in New York?
Although short-lived, my time at Sotheby's Institute of Art Summer Program was an unforgettable experience. I have always been passionate about the arts and SIA provided me with an opportunity to fully engage in the many different aspects of the art world. From learning the complexities of running and operating museums and galleries to attending a live auction, the experience has certainly deepened my understanding of all things art. The most rewarding part of this experience was being able to make meaningful connections with individuals who I now consider lifelong friends.
How would you say that being a student at Gulliver has allowed you to grow, discover new passions, and experience new ideas and opportunities?
Attending Gulliver has helped me to develop attributes that have served me well in the real world. One of the many characteristics that Gulliver instills in their students is risk-taking. The ability to take risks is an important asset in the world of art. As an artist, I must be able to take risks and experiment with possible failure in the hopes of creating a piece that is completely unique. Gulliver has taught me that when you continue to take risks and push boundaries, whether in art or in life, you will ultimately learn to develop resilience.
What are your future aspirations?
As of now I am unsure of what it is that I want to do. One thing that is certain, however, is that wherever I end up in life, I will be expressing myself creatively. I hope to take on a career that inspires change and progress in the world.