Home >
The Middle School cheerleading squad can be seen at home athletic events, including football and basketball games, cheering on the Raiders and hyping up the crowd. Under the direction of third-year Head Coach Alexandra Rodriguez, the team is led this year by two spirited, exemplary students, Alise Kling '26 and Tess Templeton-Werner '26. Read on to learn more!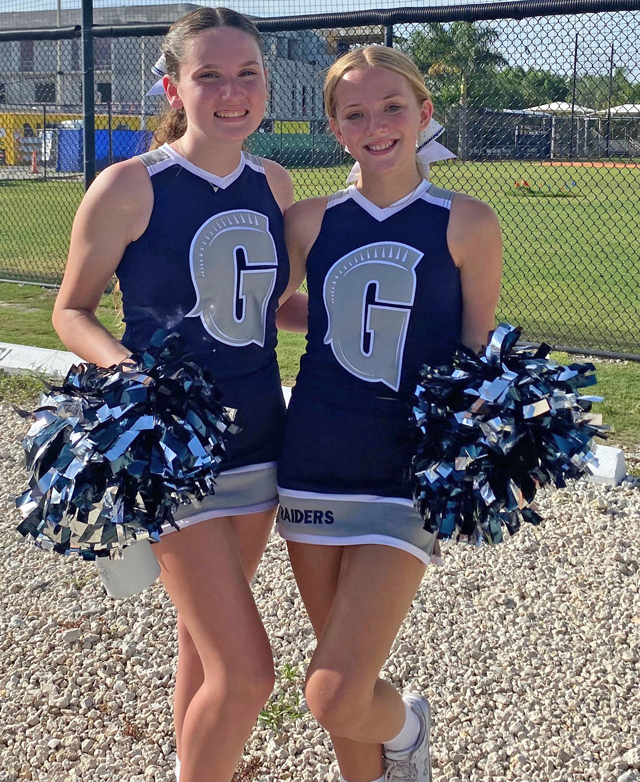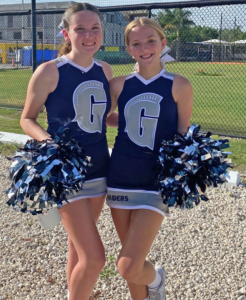 Q: How long have you been cheering? What drew you towards cheerleading?
Alise Kling (AK): I've been cheering since Coach Alex brought cheer to Gulliver so, sixth grade. 
Tess Templeton-Werner (TT): I have been cheering at Gulliver for about two and a half years. My best friend was in cheer and it looked fun so I joined her. 
Q:  What is your favorite part of being on the Middle School Cheer team? What is the most rewarding part?
AK: Being with my friends and knowing they have my back.
TT: My favorite part is hanging out with the team and the games. The most rewarding part is when we've been working on a cheer or dance for a while and you finally get it. 
Q: How has Gulliver pushed you to discover new passions and interests?
AK: It has a place for everyone.
TT: Gulliver has pushed me to try new things. The teachers and coaches can be helpful in pushing you, too. 
Q: As a captain, how do you motivate your teammates?
AK: I try and ask if they need help, and just remind them that they are doing amazing.
TT: As captain, to motivate the team you have to have a lot of energy and lead by example. Even if we've just finished running I try to have energy and get them to have more energy. 
Q: Who do you look up to, and why?
AK: My mom. She understands me and helps me with everything.
TT: I look up to my mom. She pushes me outside of cheer and also in cheer. She was a cheerleader and dancer so she helps me to be better. 
Q: What other clubs, honor societies, academic interests, do you pursue at Gulliver? How about outside of Gulliver?
AK: I enjoy spending my time outside and watching sports.
TT:  I'm in the Sneakerhead Club at Gulliver and outside of Gulliver, I enjoy spending time with my family and being outside.