Home >
Gymnast Khloe Timmer '27 has been working toward a big goal: a chance to represent Haiti at the 2024 Olympics. Her next step toward qualification is competing in the World Cup Series and the Continental Championships, and her training has reached a new level as she prepares to earn a spot on the roster. The 2024 Olympic Games will take place July 6-August 11 in Paris.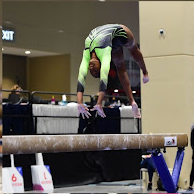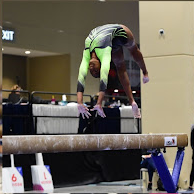 Khloe also enjoys drawing, dancing, and volunteering for the gymnastics Special Olympics. Read on to learn more.
This summer, you were training to qualify for the Paris 2024 Olympics Games. When did you set your sights on this goal, and what is it like to prepare for something like this?
I set my sights on this goal after competing at my first international competition, the 2022 Pan American Gymnastics Championships. Getting ready for Olympic qualification means having to train as an elite athlete, while training as a level 10 gymnast.
When did you start doing gymnastics, and how did you discover that you had a passion for it?
I started doing gymnastics at the age of three years old. I discovered I had a passion for gymnastics when my parents signed me up for my first class. I fell in love with it..
What is your favorite thing about gymnastics?
My favorite thing about gymnastics is being able to compete and travel around the world, especially if it is an international competition.
How would you say that being a student at Gulliver has allowed you to grow, discover new passions, and experience new ideas and opportunities?
I have discovered new techniques and how to do certain things. As I like to draw, I have found interest in learning how to shade and use watercolor.