Home >
Isabella Bonifasi '23 has a passion for service, civic engagement, and using her voice for good. She is active in the Gulliver community and beyond, serving as a Health Information Project (HIP) Peer Educator, tutor and volunteer for several organizations and programs, in various roles at Breakthrough Miami, and more. As Model UN Vice President, Isabela recently helped lead Gulliver to the top honor of Best Large Delegation at Columbia University's 22nd Model UN Conference. At the same conference, she earned Best Delegate recognition. 
As a junior, Isabela was selected as one of 20 winners of the Yale Bassett Award for Community Engagement, an award that honors the legacy of Ebenezer Bassett (1833-1908). Through this award, the faculty of Yale's Center for the Study of Race, Indigeneity, and Transnational Migration honors emerging leaders who distinguish themselves through a record of creative leadership and public service, academic distinction, interdisciplinary problem solving, and experience addressing societal issues. Read on to learn more about Isabella's work in the community, her experience as a Gulliver lifer, her future aspirations, and more.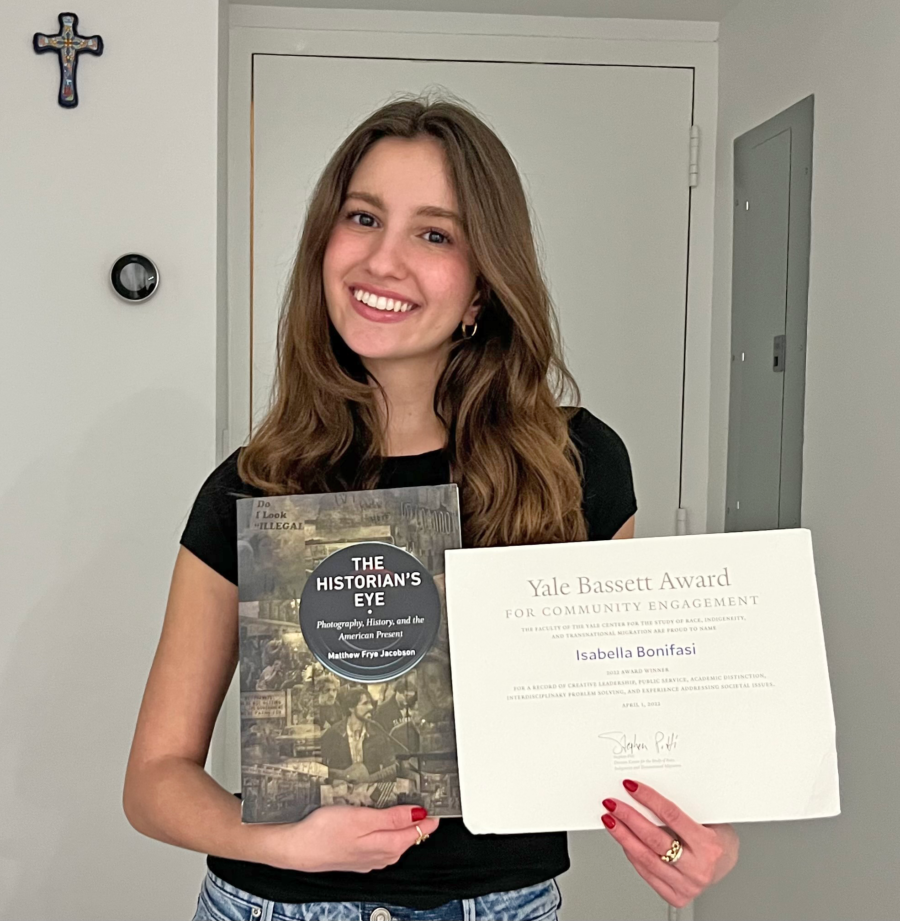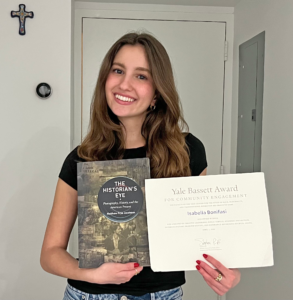 Q: How did you hear about this award, and why were you interested in applying?
A: I heard about this award through my college counselor, Mrs. Ernsberger. She encouraged me to apply. I was interested in applying for the Yale Bassett Award for Community Engagement because many of my extracurricular activities involve community service. I am a Lead Volunteer at Breakthrough Miami and I am a volunteer for the Nobis Foundation where I teach English to Ecuadorian children in rural communities.
Q: How did you become interested in community engagement and public service?
A: My mom has always motivated me to be a big part of my local community and do whatever I can to help others. She pushed me to join community service clubs and look for internships where I would be able to make a difference. Once I joined these organizations, such as Breakthrough Miami and the Nobis Foundation, I realized how important it is to be able to be an active member in public service.
Q: Can you describe some of the service efforts you have been involved in?
A: I have been a Lead Volunteer at Breakthrough Miami for four years and throughout my time with Breakthrough I have created my own curriculum of Model United Nations where I taught the scholars about real-world issues as well as public speaking skills. I'm also an intern for the Mayor of Miami, Mayor Francis Suarez. At this internship, I have been able to see first-hand the public service issues that Miami faces and how our local government tackles these pressing affairs. Additionally, for the past two years, I have been a volunteer at the Nobis Foundation where I tutored young, impoverished Ecuadorian children on the basis of conversational English over Zoom. Last year, I organized a voter registration drive at school for the senior class to be able to register to vote or for the younger grades to have the opportunity to pre-register for voting.
Q: As a winner of the Yale Bassett Award, you received a certificate and a book selected by the faculty of the Yale Center for the Study of Race, Indigeneity, and Transnational Migration. What book did you receive? How did it connect to the Center's work and/or the criteria for the award?
A: The book I received was "The Historian's Eye" by Matthew Frye Jacobson. This book is a collection of photographs taken by Jacobson between 2009 and 2014. Jacobson collected thousands of images and created a link between the past, the present, and the future. This book connected to the Center's work because the common theme throughout the image series relates to civic engagement in the United States. The photographs additionally demonstrate a level of complexity in illustrating the successes and more so the failures in American history when it comes to fulfilling the promises that the United States promised to uphold. Nonetheless, the essays in this book exemplify a feeling that hope has not been lost when it comes to community engagement and civic service, specifically in terms of the fight against racism.
Q: Who are some Gulliver teachers that have had an impact on you?
A: My International Diplomacy and Legal Studies teacher has had the greatest impact on me. Joining his class as a freshman, I remember being terrified. Mr. Santelices took me on my first Model UN trip to one of the most difficult conferences my first year in high school and that trip changed the trajectory of my entire high school career. He has not only been my teacher for the past four years, but my mentor. He has consistently motivated me to pursue my passion for politics and he has been so supportive of everything that I have set out to accomplish. I seriously would not be the person I am today without his guidance.
Another teacher that has had a great impact on me is my HL Global Politics teacher, Dr. Daniel. During my time in his class, I have learned so much not only about political theories but about geopolitical issues in nations that are severely underrepresented by the media. Dr. Daniel always pushes me to research more in depth and get the entirety of the facts before reaching any final conclusions in any political discussion. His class has put me in the routine of reading the news every day so I am ready for the beginning of class debrief and debate on the latest current events.
Q: As a Gulliver lifer, how would you say that being a student at Gulliver has allowed you to grow, discover new passions, and experience new ideas and opportunities?
A: As a Gulliver lifer, I feel like I have been able to experience the school in a way that I feel that the school wants what is best for me, and is here to help me achieve my goals in any way possible. Being a student at Gulliver has allowed me to discover new passions because of the endless opportunities the school has given me. Even when I was younger, the clubs offered were so diverse that I have truly been able to try any extracurricular activity that I have opted to participate in. Being in the IB Programme has allowed me to meet classmates that I never would have been introduced to otherwise. It is such a diverse community and the IB Programme at Gulliver has facilitated so many interdisciplinary conversations that have broadened my perspectives on issues ranging from politics to culture to even humor. Lastly, the diversification of programs that Gulliver has offered me through my entire time at the school has allowed me to truly follow my passion and continue to push myself past new margins.
Q: What are your future aspirations?
A: In college I'll be majoring in political science on a pre-law track with a minor in French. My goal at the end of my undergraduate years is to travel all around the world through study abroad programs and be able to learn about contrasting political systems from a first-hand perspective. I hope to successfully complete law school and use my degree to enter a powerful position in politics where I'll be able to voice my opinions to make a difference. In domestic politics, I hope to one day become a senator for a period of time, then move on to my place in international politics where my goal is to become a diplomat all over the world and eventually reach ambassador status.