Home >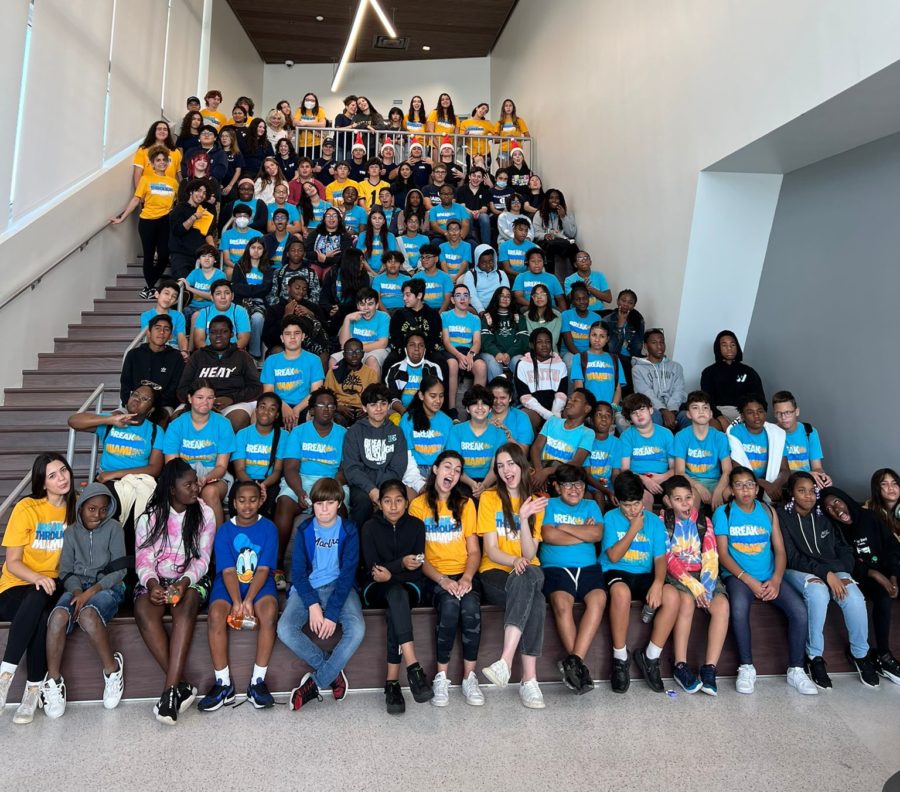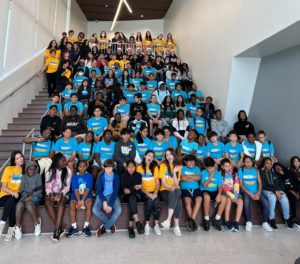 Community service is a hallmark of the Gulliver Prep journey – a value that guides our students through life. At the Upper School Campus, students can get involved with a variety of service clubs, including Breakthrough Miami.
Breakthrough Miami provides an academic enrichment program that uses a student-teaching-students model to ensure that motivated, under-resourced students have access to educational opportunities, graduate from high school on time, and attend college. The organization currently serves 1,300 middle and high school students at six community campus locations, including Gulliver Prep. As an embedded partnership with the school, Breakthrough Miami's programming comes to life through the engagement and service leadership of Gulliver's students, parents, faculty, and alumni.
From assistant volunteers and teaching fellows, to lead volunteers and council members, opportunities abound for student leaders to emerge within Gulliver's Breakthrough Club. Read on to learn more from President, Victoria Paesano '23, and Lead Volunteer, Natalia Aguilar '25.
Looking for a way to give back this summer? Volunteer opportunities for Breakthrough's Summer Institute are available. For more information, contact Curtis Bryant, Site Director, at curtis@breakthroughmiami.org or visit breakthrough.miami/volunteer. 
How did you discover Breakthrough at Gulliver?
Victoria: As a member of Gulliver's National Computer Science Honor Society, I was encouraged to sign up as an instructor of a coding class at Breakthrough Miami in ninth grade. During this first class, I discovered my love for forming individual bonds with these Breakthrough Scholars. Since then, I've had many roles in Breakthrough, organization-wide. I have served as Lead Volunteer for the sixth grade Arts & Culture class, Teaching Fellow for the seventh grade summer math course, Volunteer Council Administrator, and now, Gulliver's Breakthrough Club President.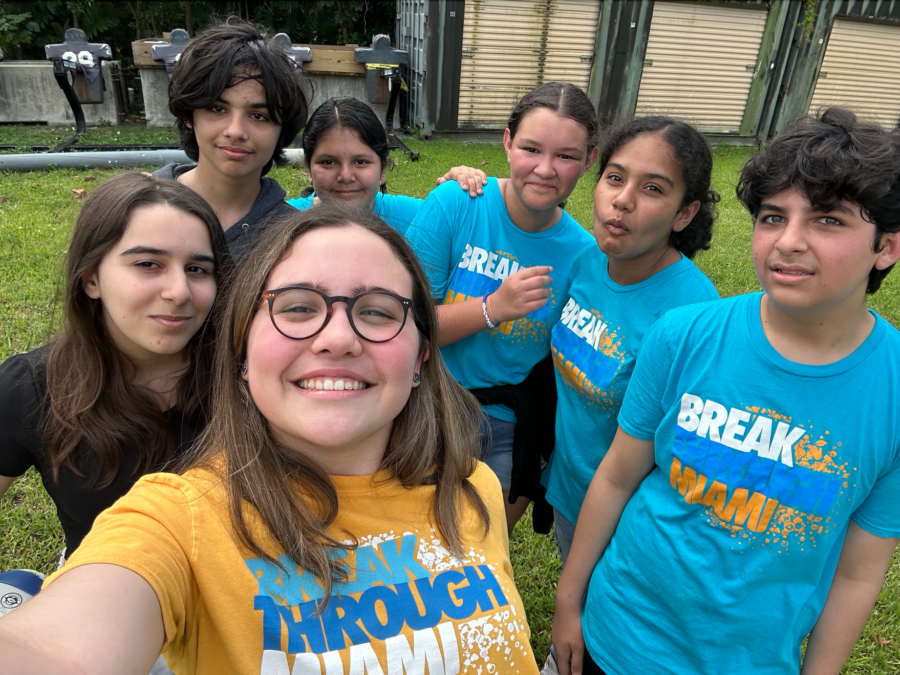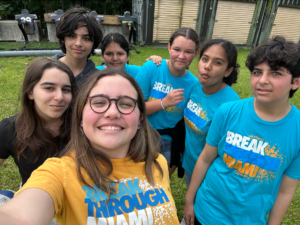 Natalia: I first heard about Breakthrough Miami when I was taking a summer course on campus before my freshman year. I saw a whole bunch of kids wearing Breakthrough t-shirts but never knew exactly what the organization was about. A couple of months later, during Club Rush, I saw the sign-up table to join the Breakthrough Club and went to go see what it was about after having seen all the kids that summer. I started volunteering about a month later, when Breakthrough Saturdays started that school year (2021-22). I started getting to know the Scholars and even made friends with some of the other volunteers who are not Gulliver students, which gave me the opportunity to get to know people from other schools in the Miami-Dade area. I started off as a sort of Assistant Volunteer in the classrooms and just a couple months later became a Lead Volunteer. As a Lead Volunteer, I teach the lessons to all the kids while making sure that they're paying attention.
Out of all the service opportunities and student clubs available at Gulliver and around South Florida, why were you interested in Breakthrough Miami, and what has kept you so committed?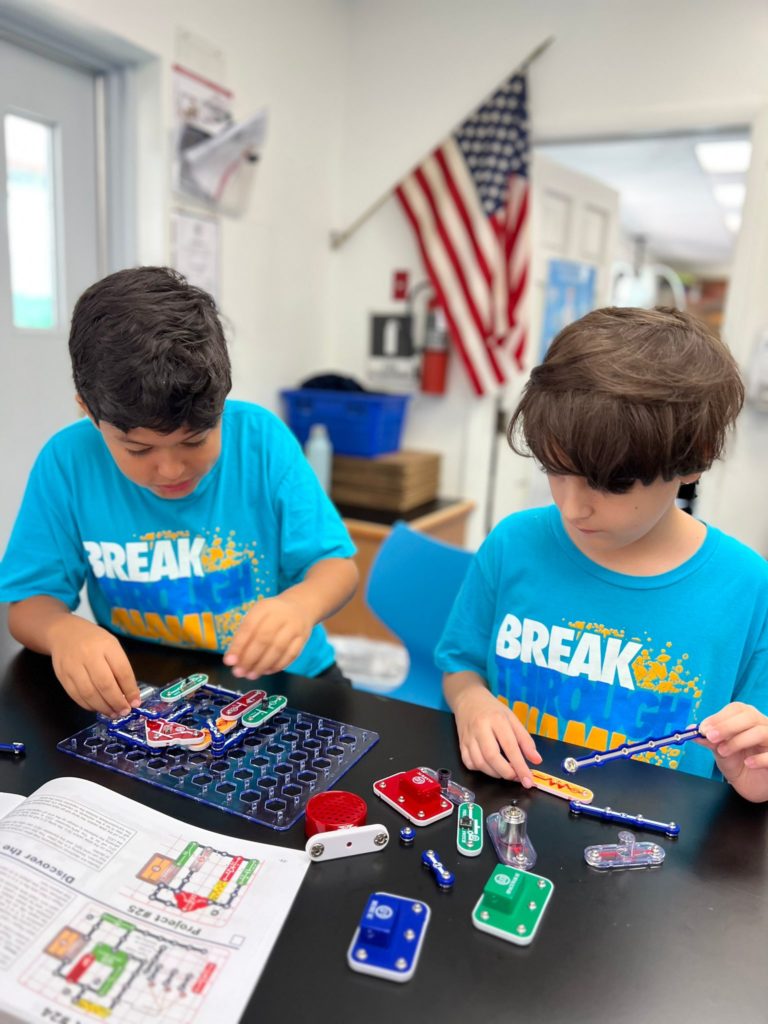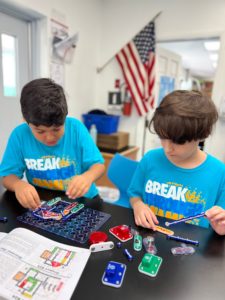 Victoria: Breakthrough Miami's supportive community is what has kept me committed for the past four years. I have developed unique bonds with the other volunteers, Scholars, and site directors, and I'm always excited to be back with them on Breakthrough Saturdays. Another thing I love about volunteering with Breakthrough is the flexibility. I can choose to help out on a Saturday morning, tutor a Scholar during the week, or participate in Volunteer Council meetings depending on my schedule. My favorite part of this service opportunity is that I can teach Scholars about my own passions, including cybersecurity. I created the curriculum for a cybersecurity elective to introduce Breakthrough Scholars to a new field that I have been excited to continue exploring myself.
Natalia: Once I had signed up to join Gulliver's Breakthrough Club, I learned about how the program spans across different schools, and that made me really like the organization because they are helping a wide variety of kids from all around the county. The thing I appreciate most about Breakthrough, though, is how committed they are to making sure every single Scholar succeeds in pursuing an education, especially beyond high school, by giving them free tutoring sessions (where they get tutored by Breakthrough volunteers), as well as the chance to educate them on important issues we face today as a society like racial injustice and climate change. Educating kids about these topics in a fun and interactive way like we do at Breakthrough makes the Scholars more conscious about the world they are growing up in. Knowing that these kids are part of my generation and we are all going to have to face a lot of things in the future, gives me confidence because I know they will have been well-informed on these crucial topics.
What has your work with Breakthrough Scholars taught you?
Victoria: One of the most important things I've gained from my work with these Scholars is communication skills. I've learned how to facilitate discussions and resolve conflicts, which has already proven to be useful outside of my volunteer experiences. Additionally, being a member of the Volunteer Council has enabled me to collaborate with volunteers from other sites in Miami. We work together to connect Breakthrough volunteers, Scholars, parents, and staff with a monthly newsletter.
Natalia: Not only have I learned a lot on how to work with kids, I've learned things from the lessons that I have been teaching them. This past year, I was teaching the sixth graders about art and there was a lesson about a type of historic art. We learned how to draw them and I thought that was really cool. I feel as though I've become a lot more educated on various types of art in general.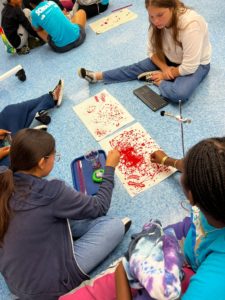 Describe one moment from your time with Breakthrough that has meant a lot to you.
Victoria: As a student leader in the Upper School Orchestra, I organized a performance for Breakthrough Scholars during their Winter Celebration. I recruited eight other members of the orchestra to play our winter repertoire for these students as part of a small ensemble. As we were playing, some of the scholars came up to us individually, asking how we began playing our instruments and looking for resources to learn how to play. I loved how eager the Scholars were to hear us play and was excited to see that we had sparked an interest in music in some of them.
Natalia: My group of sixth graders and I went to the Perez Art Museum (PAMM) earlier this year and I had such a great time seeing them learn about how to make art booklets called "zines." It's basically a DIY project where you create a booklet with project paper, and the kids had to create theirs surrounding racial injustice. They were provided with different magazines that they could get pictures from, as well as stickers and markers. I think small projects like this help the kids use their creative intuition and put out powerful messages and reminders.
How would you say that being a student at Gulliver has allowed you to grow, discover new passions, and experience new ideas and opportunities such as volunteering with Breakthrough?
Victoria: Gulliver has many opportunities for students to explore clubs and outside organizations where they can experience new things. The annual Club Rush hosted annually at the Upper School is an amazing place for high school students to see what clubs they can join, such as Achieve Miami or GOALS. I've seen first-hand the positive impact that Gulliver's resources and supportive community have had on this Breakthrough site; the Scholars love learning in these classrooms and always look forward to eating the lunches that Gulliver parents provide. I'm grateful that Gulliver has helped me find communities like this one to grow as a learner through volunteering.
Natalia: I think that we are provided with so many opportunities at Gulliver such as a wide variety of elective classes, clubs, and sports that have helped so many students discover what they would like to do in the future, and open their minds to activities they never thought of trying out. This school year I joined the Drama Department, participating in my class' play and reading different pieces of theater throughout the year, which helped me realize that I would like to work in the film industry someday as some sort of screenwriter or director.