Home >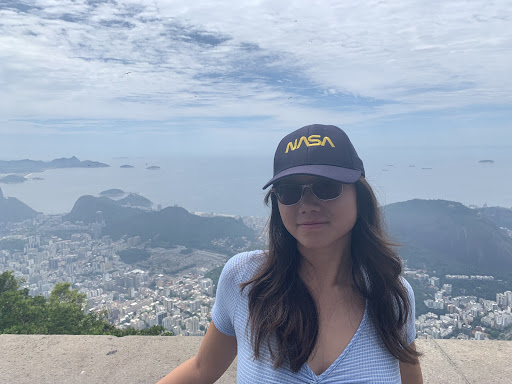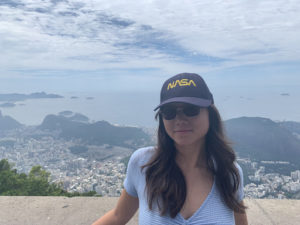 Margaret Miao '22 is Gulliver Prep's Silver Knight Award nominee in the Music and Dance category. Her passion for music was ignited at a young age and is something she is committed to continuing in college and beyond. At school and in the community, Margaret's love for music has made a tremendous impact on those around her, from spearheading community outreach efforts with the Music Club to reviving the orchestra at her church.
A Gulliver Merit Scholarship recipient, Margaret has made the most of her time at Gulliver Prep, discovering additional interests in engineering, athletics, art media, STEM, community service, and health and nutrition. This fall, she will attend Princeton University where she plans on majoring in mechanical and aerospace engineering with a certificate program in engineering biology.
Read on to discover her journey through music, how Gulliver has helped shape her passions, and more.
Q: As our Silver Knight music and dance nominee, tell us about your journey in the arts.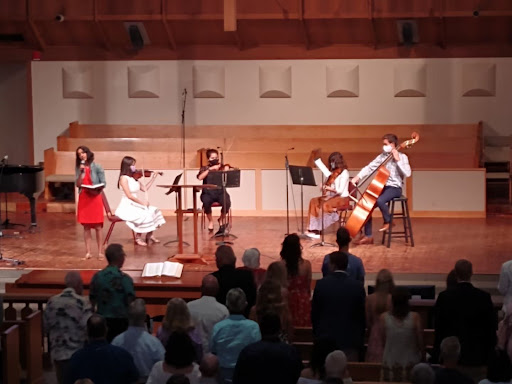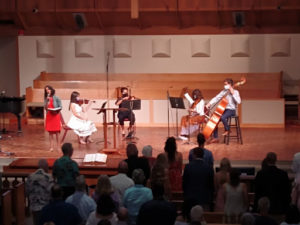 A: They say art is worth a thousand words, however, music is worth a gallery of pieces. When I play my violin, I become an entity that's immersed into the world created from the notes of my instrument. The major melodies color the air with grace and grandeur while minor harmonies echo somber tunes of deep sorrow and tension. The violin becomes an extension of my emotions, thoughts, and feelings. 
I started my musical journey when I was in first grade. My mom just signed me up for violin lessons and I had a $300 violin with no previous musical experience. Mr. Song, my violin teacher [still to this day], took a chance on me and began teaching me technical skills and developing my musical skills. Although it was at first a hassle to keep little Margaret practicing consistently, with my mom literally timing and pestering me to complete an hour a day, I came to love playing the violin. Throughout the years I've participated in playing for school orchestras, church services, community orchestras like Greater Miami Youth Symphony, and also participating in competitions like Solo and Ensemble, earning Superiors every time at the state levels, and making it to the All-State Orchestra three years in a row. At school, I serve as Concert Mistress, President of the orchestra, and as Vice President of the Tri-M Music Honor Society. Recently, I even received a full scholarship from Berklee College of Music in Boston, for my violin performance.
My desire to share the freedom that music creates led me to be engaged in serving the community from a young age, including being in multiple community orchestras. I have been able to organize community service events to provide students inside and outside of the music program with ways to give back to the community. Among these include: performances for veterans, Lotus House and Camillus House (homeless shelters in Miami), and the school's maintenance staff. These experiences taught me the power of music. From the beams of euphoria on the retired veteran's faces to the attentive anticipation of the maintenance staff, the gratitude we receive after each performance is immeasurable. It is humbling to know that a simple song from one of our instruments can transform someone's day for the better.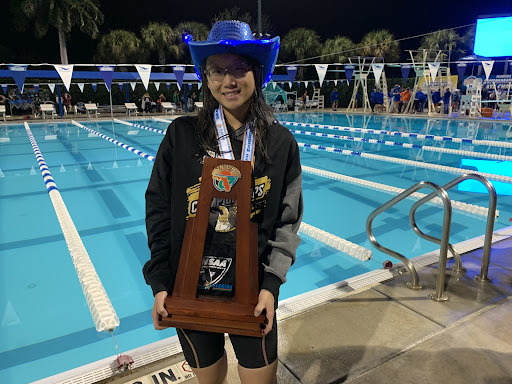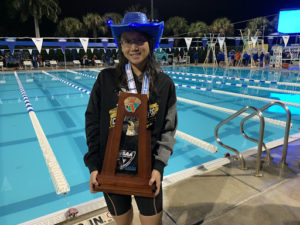 Q: Can you briefly describe your Silver Knight service project?
A: Reviving and starting the Old Cutler Presbyterian Community Orchestra has been my most significant impact on my community. This orchestra previously played in annual Christmas concerts and performed for spring concerts, as well as small gigs on Sundays throughout the year. I saw that together, youths of different instruments, schools, and backgrounds, came in unity with the same passion for musicianship.
 I was also able to connect events for the OCPC Orchestra with Tri-M members at Gulliver, and offer them an opportunity to serve in the community. This past December, our Christmas concert drew in about 1,200 people, filling the pews with people in both sessions of the concert as well as 1,200 listeners online. Astonishingly, this concert was also free! Anyone could attend to our performance and partake in the holiday spirit. Now, we perform free annual concerts for the residents of South Florida as well as smaller gigs during the year, reverberating the notes that formed out of the love and dedication to our instruments. 
Q: How did you come up with the project, and why are you so passionate about it?
A: Because of COVID, the orchestra at my church was discontinued. I saw the value in this orchestra, for it brought together a diverse
 community of players from the vicinity. Missing the joy of playing for others, this inspired me to talk to my music director at my church again. I came up with the idea during the end of last summer, seeing how there was a clear lack in the fellowship and musical events in South Florida. With everywhere opening up, I wanted to be able to play in an ensemble again and be able to share it with my community. I didn't do this alone; I asked two other members from Westminster to help me make this possibility come true. I knew that music holds a special place in the community's heart by remembering the smiles and compliments from the audience during past performances.
Q: How has your experience as a student at Gulliver shaped your academic, artistic, and personal passions?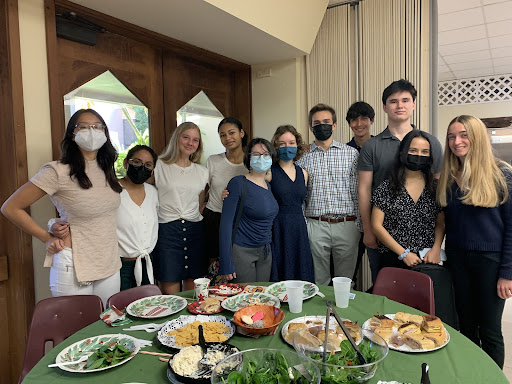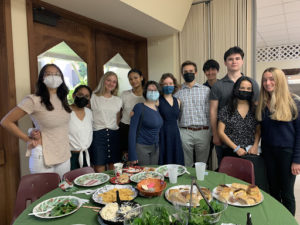 A: Being a Merit Scholarship recipient, I was fascinated and honored to utilize the numerous opportunities and resources that Gulliver has to offer. At Gulliver, I'm able to participate and balance myself in a myriad of activities. Gulliver allows me to be unapologetically the person that I am. I was told by people, "you can't possibly do all the things you enjoy" during high school. I said "bet."
Aside from the academic prowess the school offers in the form of excellent and dedicated teachers, I was able to pursue my passions in the arts, music, engineering, as well as athletics. In music, I developed my leadership skills as the Concert Mistress and represented Gulliver in the All-State Orchestra for two years. Under the guidance of my director, Dr. Jones, I was convinced to pursue music and realized the value that music has in my life. In athletics, I swam for the girl's swimming team, making it to states all three years that I participated in the sport, and was part of two State Championship teams. Moreover, I was able to pursue playing water polo, a sport I fell in love with at the end of my senior year, even becoming the goalie for the girls' team. In engineering, I was able to develop my passion for biomedical engineering through projects concerning exo-skeletons and blood pressure monitors. Without the support of many Gulliver teachers, coaches, and faculty, I would not be the person that I am today, and I am eternally grateful to them.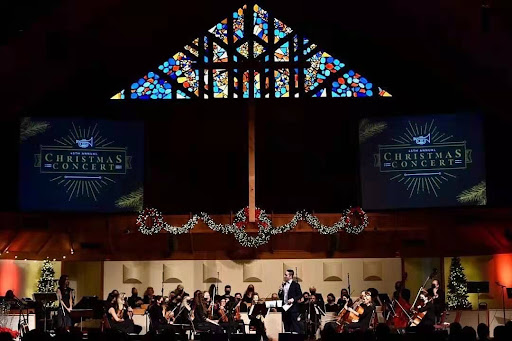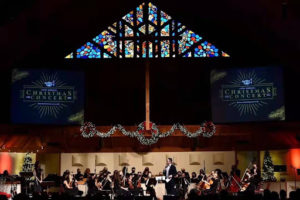 Q: What are your future aspirations, at college and beyond? 
A: I aspire to immerse myself in the field of biomedical engineering, with a special interest in prosthetics and biomechanical robotics. At Princeton University, where I will be going in the fall, I plan on majoring in mechanical and aerospace engineering with a certificate program in engineering biology. I plan on attaining a Masters and potentially a PhD in order to get the necessary knowledge to compete and participate in such a competitive and complex industry; it is a key part for my future plans. 
I decided to pursue biomedical engineering because I want to be able to create prosthetics and medical assistive technology to help people with mobility issues. The ability to have ownership over one's own movement is an expression of freedom. I want to be able to help a person regain their autonomy, as well as open a new avenue to amplify human capabilities. After my education, I plan to either start or join a biotechnology company that works to develop prosthetic devices or innovative medical devices that will help those with disabilities in the future. 
However, I definitely am not letting go of my love for music, even in college or later in life. I plan to also do music as a minor or extracurricular at Princeton and would love to still participate in ensembles that play for the community and pick up gigs around the country. I wish to tour the world, whether as a musician or as a traveler, to better understand the different cultures and people.