Home >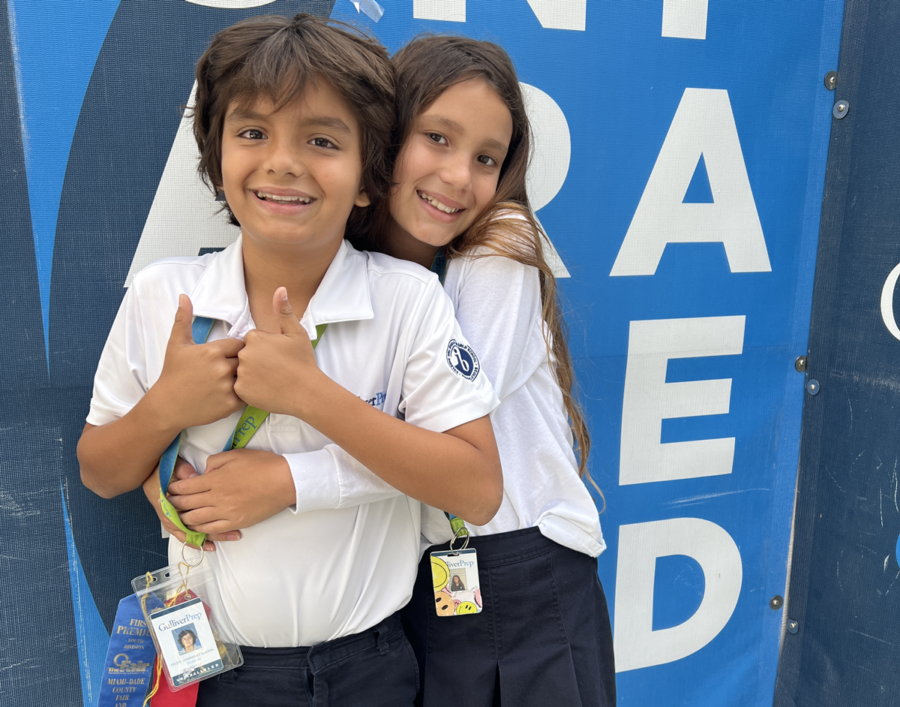 Twins Luciana Rodríguez Guerra '28 and Felipe Rodríguez Guerra '28 came to Gulliver Prep this school year and are already finding success and making waves – in two languages. 
The brother-sister duo entered this year's Miami-Dade County Fair Writing Contest, submitting poems in English and short stories in Spanish. Without any expectations, both of their short stories earned blue ribbons and their poems achieved second place honors.
"When I entered the class, my goal was to write a short story," Luciana said. "When [Señora Picado] offered the opportunity to enter a contest I thought, why not, I can't lose anything out of it."
She also enjoys math, but Luciana has always liked writing, especially freestyle. "It was more fun than having a topic to stick to. I liked my short story better because I had more fun writing it."
For Felipe, whose favorite subjects include math and science, entering a writing contest was not something he ever thought to do, and ended up being a bit eye-opening. "I really just did it because there was nothing to lose. For the poem, I started off with a rhyme because I always thought poetry had to rhyme. Ms. Lyon told me not to rhyme, and just take it from the heart."
Luciana and Felipe are proficient in English, but their first language is Spanish, which they learned mostly from their older sister.
"I learned from my sister very young," Luciana said. "My parents have a strong accent; they didn't learn English from a young age. I remember they told us that when they went to college [in the U.S.] and had to write essays they were asking everybody for help."
"I don't feel like English is my second language," Felipe said. "It's more natural to me. Our older sister was born in the U.S. and we were born in Colombia, coming to the U.S. shortly after we turned three. We just became U.S. citizens. We're first generation immigrants."
Just one year into their Gulliver journey, Luciana and Felipe are already feeling at home.
"The transition was really good," Luciana said. "[At my previous school] we sat with the same people from second to fifth grade and it just kept getting smaller. I had no friends and was hoping this would be a fresh start, and it was so smooth. Right now my favorite thing is student government. I had my first meeting yesterday and it's really fun. I also really like recess and all the community time because I didn't have that before."
Felipe echoes his sister's sentiments, and is leaning into all his new school has to offer.
"I have a ton of friends that I don't have any classes with because there's more time and places like clubs, recess, and lunch, to spend with other people. My favorite thing about Gulliver is the diversity. There's a wide range of different kinds of people from different countries, nationalities, and races. And, Gulliver has everything from the EDGE Program to Honors and MYP, and within, there are students of different ages. There's someone here who is 14 and somebody else could be turning 10 this year. There's a lot of different people in the same grade and I really like that."