Home >
Students Put STEM Knowledge to Work!
Over the last seven months, hundreds of students across the globe put their STEM knowledge to work to benefit humanity by competing in the 2021 Conrad Challenge. After a multi-faceted, rigorous process during a year unlike any other, Gulliver's team of Alejandro Antorcha '22, Porter Bowen '21, Daniel Hagenlocker '24, Victoria Hagenlocker '22, and Sabrina Sharma '21 persevered, becoming the 2021 Pete Conrad Scholar in the Energy and Environment (Dell Technologies Sustainable Packaging) category for their innovation, Inside the Box.
The Conrad Challenge is an annual multi-phase business and technical plan competition open to students ages 13-18 from around the world. Students use their science, technology, engineering, and math (STEM) knowledge, together with creativity and collaboration, and entrepreneurship skills, to develop innovative products and services. This year, 45 finalists were selected from more than 500 entries across 44 countries to attend The Virtual Innovation Summit in late April. These student teams then competed to earn the Conrad Challenge's top honor: Pete Conrad Scholars.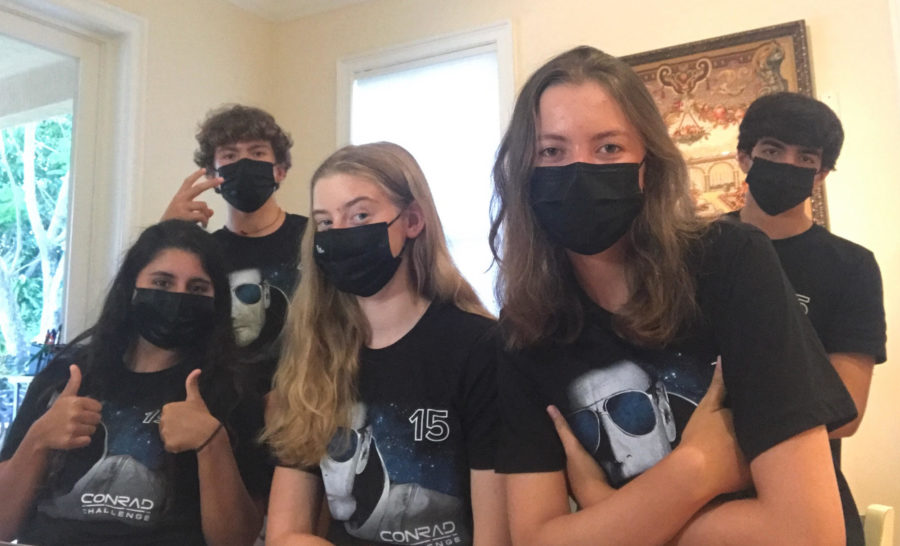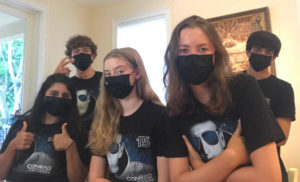 In focusing on energy and the environment, the Inside the Box team knew that sustainability and eco-consciousness was not only top of mind for them, but for many around the world.
Creating a Sustainable Society
"Sustainability has increasingly become at the forefront of the push for eco-friendliness and eco-consciousness partly due to increased investment in R&D [research and development], which is largely driven by growing consumer awareness among the general public," said Daniel. "In general, we are seeing a rise in recognition towards the reality of the environmental situation we are in, and being able to operate as a sustainable society is the first step towards a green future."
Inside the Box's winning solution utilizes the overproduced grains, corn, and wheat, to create biodegradable packaging, optimized for electronics, that provides all of the functionality of standard corrugated cardboard shipping boxes and styrofoam inserts.
"As we were quarantining in our homes during the peak of the pandemic, we all were furthering our hobbies and interests, and in doing so, we continuously ordered commodities from the internet, immediately realizing the influx of packages arriving at our homes," said Sabrina. "Once school started, we collectively decided that a comprehensive sustainable package needed to be introduced for the betterment of our planet. In noticing that the Conrad Challenge was hosting a Dell Technologies Sustainable Packaging category, we realized that this was the perfect opportunity to establish our idea in the e-commerce industry."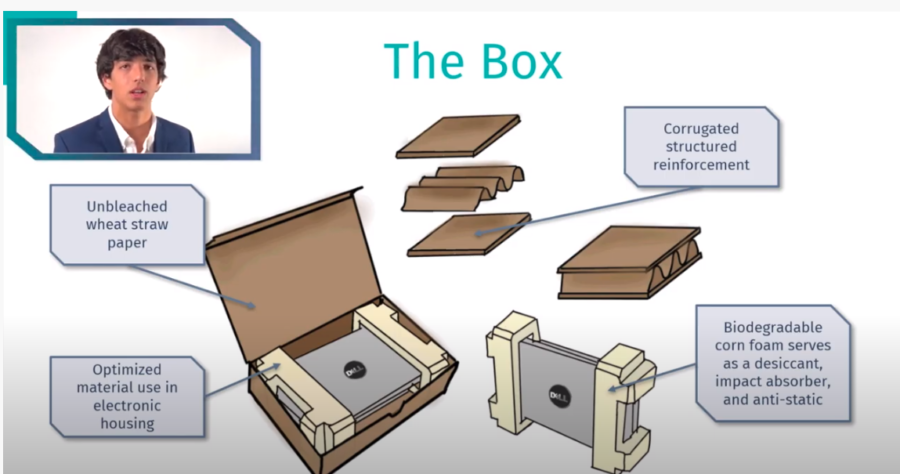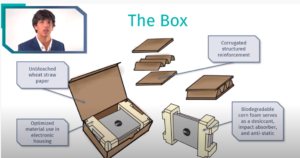 The need for a sustainable packaging option became more and more apparent as the team conducted their research.
"I found that 493 million trees, in the U.S. alone, are cut down for the purpose of creating corrugated cardboard boxes," said Porter. "I thought that was insane and really drove home the need for creating an alternative package."
The project didn't come without challenges, as the team struggled to find the time to work together, more often than not, digitally, due to social distancing guidelines and other COVID-19 protocols. The team had to get creative, using Zoom and other digital collaboration tools in an attempt to recreate the typical working environment to test their research prototype and complete tasks in a timely manner. They were able to run some tests on Fusion360, as well as use organizational tools such as Trello and EverNote, but nothing compared to the typical work schedule from years past.
"In Gulliver's Engineering Department, the design process is stressed heavily," said Porter. "So, while starting the project was difficult, we, as a team, knew what to do. We knew we first had to define our problem – without a problem there'd be nothing to solve – and write down everything we thought our box needed to accomplish to be successful."
As students at Gulliver are encouraged to explore interests and passions through hands-on, real-world application, they in turn learn to think critically and solve problems, allowing them to thrive in their future careers and in our complex world.
"Since my freshman year, I have been surrounded by like-minded peers that strive for excellence outside of the classroom," said Alejandro. "Gulliver has provided this platform for us to collaborate with each other and has provided all of the tools necessary in order to achieve our aspirations."
As we continue to see the negative effects of not taking care of our planet, the environment and the lengths we need to go to in order to protect it, has become a priority for many around the world.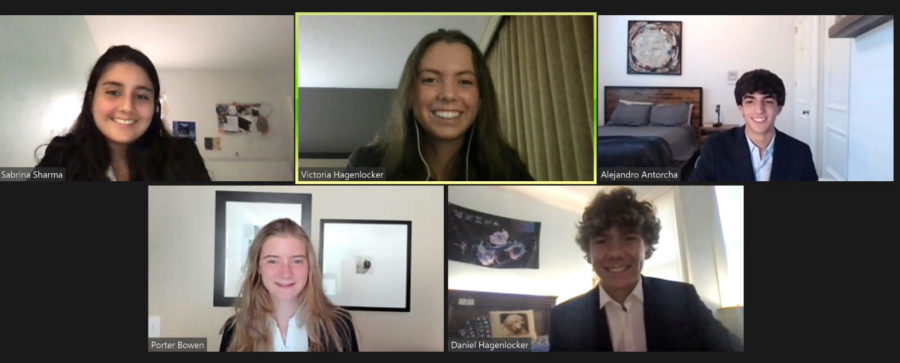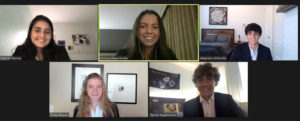 "Environmental conservation is a passion for me," said Victoria. "Throughout high school, I have been committed to working on projects with a focus on environmental sustainability, such as an app that tackles waste contamination. I am always looking to apply the technologies I am learning about in order to do good things for the environment."
Inside the Box is currently in the beginning of phase two of a four-stage plan to bring their product to market. In the first phase, a fully functional solution in the form of a research prototype was constructed to acquire customer and company feedback, and validation. During this stage, the team applied for a provisional patent on the box technology, and their technology is now patent pending.
The second stage of Inside the Box, which will begin next year, prioritizes creating a market-ready product – a professionally manufactured production alpha prototype – to be evaluated by industry professionals, obtain sustainability certification, and conduct industry standard testing to ensure product effectiveness. In the third stage, the group will acquire a full patent on the product, finalize projected costs, and pitch the technology to companies to license the product. In the final stage, they aspire to begin full scale production of the product in partnership with a corporation.