Home >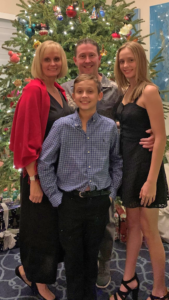 Each week through our Faculty/Staff Spotlight series, we invite our community members to get to know Gulliver Prep teachers and staff members across every division. This week, our Spotlight features Mrs. Carla O'Connor, Lower School Faculty member. Read on to learn how she discovered her passion for teaching, her hidden talent, favorite sweet treat, and much more.
Q: How long have you been at Gulliver? What do you love most about our school?
A: I have been a teacher at Gulliver for five years. I spent two years teaching in third grade and three years in first. My favorite thing about Gulliver is working to empower students to take charge of their learning, no matter what grade they are in.
Q: What is one thing people would be surprised to know about you? 
A: I grew up in Rhode Island where I worked in a video store for over six years. I can quote lines from any 80's or 90's movie and I have a knack for remembering which actors have been in any movie, or matching a song to the movie soundtrack!
Q: How did you discover your passion for teaching?
A: I discovered my passion for teaching when I was in high school. I always knew I wanted to be a teacher because of my love of children, and my own love of learning. I hope to inspire all my students to try their best in all that they do.
Q: What do you enjoy most about teaching our Lower School students?
A: I love teaching children how to read and write. Each day at Gulliver is a new day to try something new! Lower School students have a passion for learning, and come in each day happy to learn. A teacher can take on many roles in the lives of their students. I hope each year that I am able to influence my students to learn through something I modeled or taught, or through my own motivation.
Q: What were your goals for this school year? Any specific goals to close out the year?
A: My goal each year is to encourage my students to learn all they can, while being excited and having fun, too! My goals always include teaching my students that sometimes in life, things are hard, but if you persevere and never give up, you can achieve what you believe. My goal to close out the year is to show my students that with commitment and hard work, they are capable of anything, and can be anything that they want to be. I strive to create a safe place for the children in my classroom, where teamwork and empathy are rewarded just as enthusiastically as a good test score. Through love and understanding, I believe that I can help students achieve their highest potential.
Rapid fire!
Favorite candy or sweet treat: I love a tall skinny caramel macchiato, extra hot.
Your go-to commute soundtrack: Today's Pop Hits One on Sirius XM
A quote you live by: Don't put off until tomorrow what you can do today!
Last movie you watched and loved: "The One and Only Ivan"
Favorite weekend activity: Boating or spending time with my family in the pool.