Home >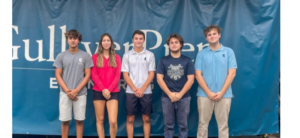 For the sixth year, Upper School engineering and biomedical science students competed at the Conrad Challenge Innovation Summit. As 2022 national finalists, two teams represented Gulliver Prep in the categories of health and nutrition, and cyber security. Students gave their pitches in Shark Tank style presentations at NASA's Johnson Space Center in Houston, Texas.
Team Phish Byte (pictured, left), comprised of Joshua Trattler '23, Leonardo De Paoli '23, Jacob Getson '23, Harry Sharma '23, and Ava Seymour, pitched a software that allows individuals to securely and safely browse the internet. Phish Byte uses machine learning that imitates how humans use the internet and protects users from phishing attacks.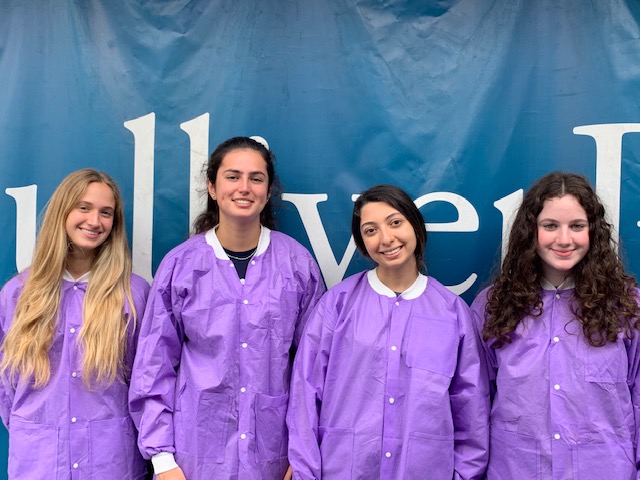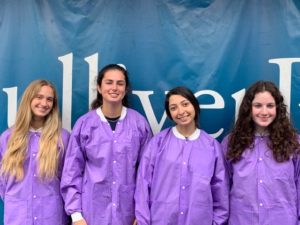 Team Babymometer (pictured, right), comprised of Yvette Chamoun '22, Florentine Bullrich '22, Christine Lezama '22, and Naomi Dreicer Liberman '23, presented a plan to develop a device aimed to monitor a baby throughout the night. The device tracks an infant's temperature and alerts parents when the temperature exceeds 100 degrees Fahrenheit.
The Conrad Challenge is one of the most highly regarded worldwide STEM competitions. A  yearly international competition, it involves innovation, technology, and entrepreneurship, as students work to design and research a purpose-driven innovation to be judged by industry experts and business owners. This year's competition saw over 800 teams from 56 countries, students ages 15-18, participate, and Gulliver was the only school to send a pair of teams to the Summit.