Black Business Leadership Panel Discussion | Gulliver Prep Business Club and Black Student Union
Home >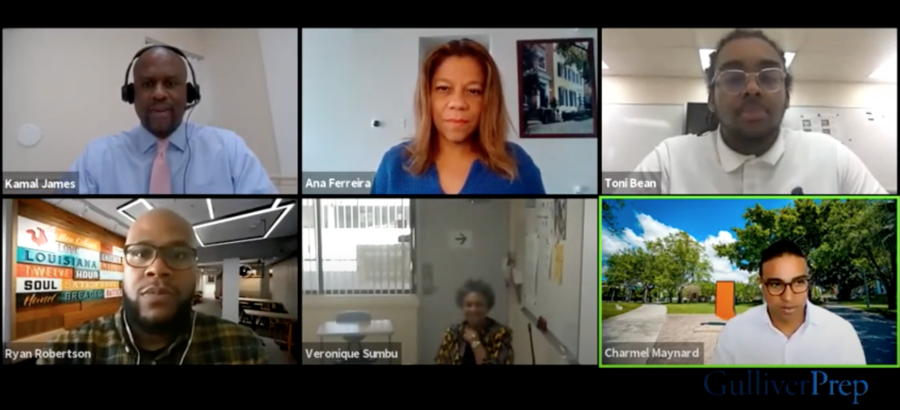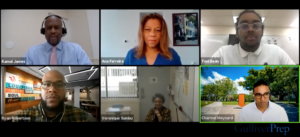 In honor of Black History Month, the Gulliver Business Club partnered with the Black Student Union to host a panel of distinguished guest speakers to discuss Black Business Leadership.
This virtual panel discussion was a great opportunity to discuss the intersection between business leadership and Black identity. The discussion was led by Mr. Kamal James, Founding Chair of the Business Program, Co-Sponsor of the Black Student Union, and Advisor of the Business Club, and Toni Charlot '22, Student Moderator. The panelists included Charmel Maynard, Residing Treasurer at the University of Miami, Ana Paula Nunez, Communications Director for LATAM at Boeing, and Ryan Robertson, Global Head of Brand Marketing at Popeyes.
Read on as Student Moderator, Toni Charlot '22 and Business Club Officers, Marcelo Barrera '22, Isabel Cuellar '21, Paulino Mercenari '23, Elizabeth Rivabem '22, Fernando Ciobataru '23, and Antonia Lemann '22 reflect on their takeaways from the discussion, what resonated most with them, their mission for the Business Club and Black Student Union, and the impact this event had on them.
Q: How was your experience moderating the Black Business Leadership Panel Discussion and what was your biggest takeaway? 
A: Moderating the panel discussion was a fantastic opportunity that I am extremely grateful to have received. It was very fun and educational. Being that I personally aspire to be like our panelists in the discussion, I found it very helpful to listen to things they had to say. The three of them were people that I now look up to and getting to opportunity to speak with them was an honor. There were many takeaways from our discussion, however, there were two specific things that stuck with me. First, I remember when answering the question of what leadership skills do many leaders lack in the business world, Ms. Ferreira mentioned that empathy is a big one. She said empathy and positive ethical behavior can get you much farther than you think and not enough people know that. Secondly, some advice that Mr. Robertson gave was under the topic of fearlessness. He mentioned that it is OK to mess up and to be in uncomfortable situations, and because of that, you cannot be afraid of messing up. He said that as young business leaders, we should charge into problems with a certain degree of fearlessness. – Toni Charlot '22
Q: What are some questions and responses that stood out/resonated most with you?
A: I would say that Ms. Ferreira's response to the question on the impact mentorship had on her career was the one that most resonated with me. That is because for the past three years I have had wonderful mentors that have taught me many valuable skills such as discipline, creative thinking, collaboration, and leadership. – Marcelo Barrera '22
Q: What was your takeaway from the discussion?
A: One of the most important takeaways from this discussion was the importance of having it. This was an opportunity for students to learn about business leadership, to better understand Black experiences in corporate work environments, and also to highlight and spread Black excellence, which is incredibly important when so much media and discussion focuses on Black trauma and anti-Black sentiment instead. Each of the panelists, as well as the wonderful moderators, had so much knowledge, wisdom, and experience, and creating a safe space for this to be shared and amplified felt incredibly powerful and exciting. We're definitely hoping to be able to host more discussions like this in the future and empower other communities. – Isabel Cuellar '21
Q: What were some of the topics discussed during the panel? What did you want your audience members to take away from the experience? 
A: We discussed the idea of Black identity and being uncompromising when it comes to expressing yourself in the workplace. We wanted our audience members to walk away from this with a new perspective, one that will empower them in not only furthering their careers in business but also in helping their communities. We wanted to remind the audience members of the power of their voice and individuality, and just how far it can take them. That's what we hoped they were able to take away from this panel. – Paulino Mercenari '23
Q: What is the mission of the Business Club and the Black Student Union? Can you describe your collaboration and are there any future events you plan to do together? 
A: The mission of the Business Club is to help educate and bring awareness of the business world to Gulliver Prep students. The Business Club discusses the business world's many aspects such as finance and entrepreneurship, while also keeping it fun for its members by hosting competitions and guest speaker events.
The Black Student Union's main goal is to support the personal, social, and academic well-being of Black Students at Gulliver Prep. The Black Student Union hosts trivia events and "Fact Fridays" to promote interesting facts, and bring awareness to the African-American community.
The purpose of the collaboration between the Business Club and the Black Student Union was to honor Black History Month by hosting a panel of distinguished guest speakers. At the panel, they discussed Black Business Leadership, with questions being asked by a faculty moderator and one Black Student Union member. The Business Club and Black Student Union hope to be able to work together on future events and plans, and are remaining in contact with each other. – Elizabeth Rivabem '22 and Fernando Ciobataru '23
Q: What are your goals for the club this year? 
A: Our biggest goal for the Business Club every year is to foster a community of students that are extremely hardworking and passionate about business. This way we can host a series of educational events, win tons of competitions, and make a change in our community. – Antonia Lemann '22
View the recording of the panel discussion at gulliver.life/bbl-panel.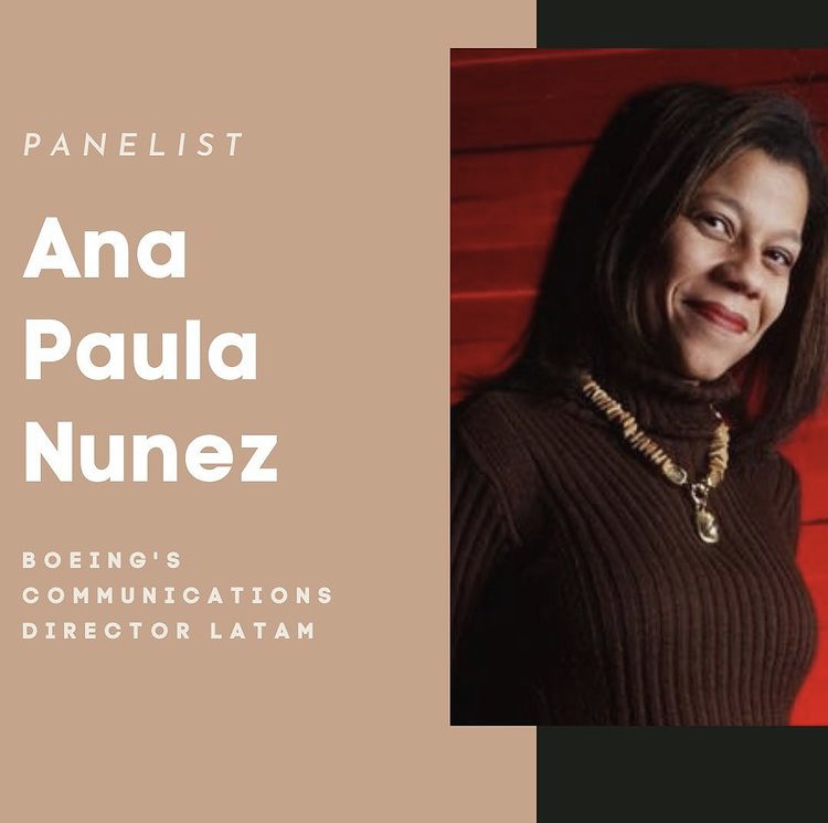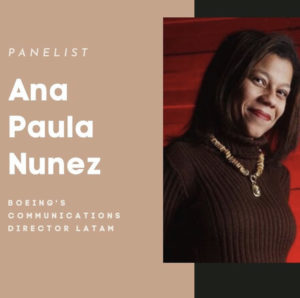 Ana Paula Ferreira is the Communications Director for the Latin America Region at Boeing, one of the largest industrial firms in the world and a component of the Dow Jones Industrial Average.
She is responsible for supporting the implementation of the company strategy for Latin America, crafting and executing Boeing's communications strategy in the region, with particular focus on Brazil, Chile, Colombia, and Mexico. In this role, she leads the company's relationship with the media and influencers to promote Boeing's image in the region and works closely with the entire executive team to support the company's business objectives in Latin America.
Before joining Boeing, Ms. Ferreira was the Communications Manager at the U.S. Consulate in São Paulo, coordinating the communications strategy for the visits of Presidents Barack Obama and George W. Bush, and Secretaries of State Colin Powell, Condoleezza Rice, and Hillary Clinton to Brazil. She also worked as a reporter, producer, and editor of the international news desk on major TV networks in Brazil and abroad.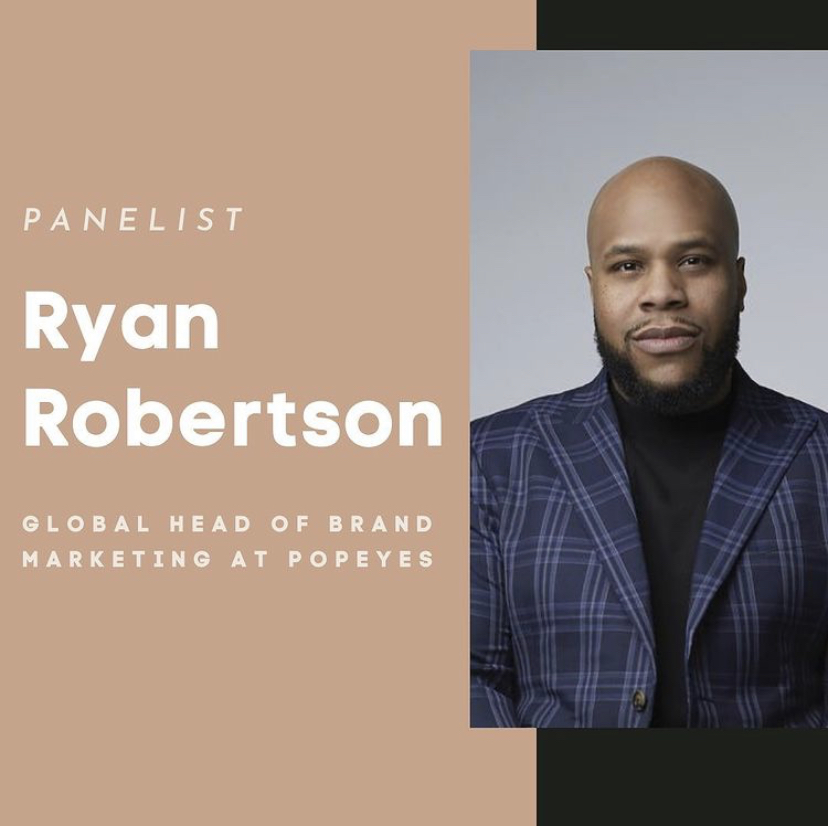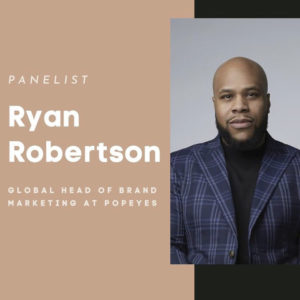 Ryan Robertson is the Global Head of Marketing for Popeyes Louisiana Kitchen at Restaurant Brands International (RBI).
Previously, he served as the Head of Multicultural Marketing, and Innovation Director for Diageo's whiskey portfolio, inclusive of Crown Royal and Bulleit Bourbon. He was also the Brand Director for Cîroc Ultra-Premium Vodka, where he managed the strategic partnership with Sean Combs. Prior to Diageo, Mr. Robertson was at the helm of the Vitamin Water brand at The Coca-Cola Company, spearheading the brand's growth strategy, communications, equity, innovation, and entertainment partnerships.
Leveraging strong consumer expertise of millennials, along with his passion for growing culturally connected brands, he led breakthrough campaigns, winning numerous industry awards and accolades.
He has over 15 years of experience in driving meaningful connections with consumers and building brands for companies like Procter & Gamble, Unilever, and LG Electronics. He holds a B.S. in Marketing from The University of Tennessee and an MBA from Xavier University in Ohio.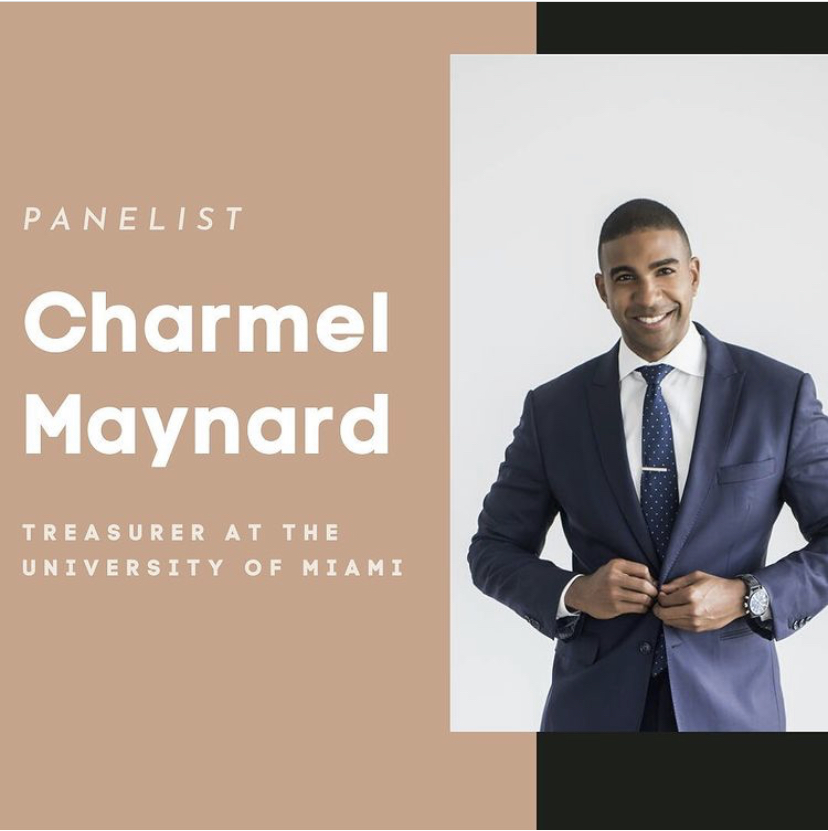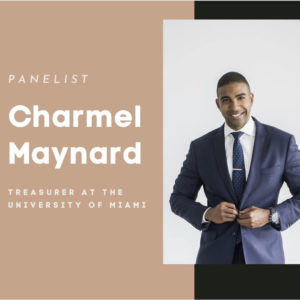 Charmel Maynard serves as Associate Vice President, Chief Investment Officer, and Treasurer at University of Miami.
In this capacity, he leads the University's efforts to invest assets, including endowment and pension funds. Mr. Maynard is also responsible for the University's capital structure, including liquidity and debt issuances.
Mr. Maynard was previously the Vice President with J.P. Morgan's Investment Bank in New York City. During his 10-year career with J.P. Morgan, he focused on investment banking, debt capital markets, and leveraged finance where he advised clients on capital structure solutions, deal structuring, and execution of syndicated revolving credit facilities, institutional term loans, and bond issuances. Mr. Maynard holds a Bachelor of Arts in Political Science from Amherst College.