Home >
In addition to traditional classroom learning, Upper School architecture students were able to participate in several workshops and guest lectures this fall.
Ms. Emily Wilson, AIA LEED, Architecture Faculty member, held three after school portfolio workshops for seniors, helping them prepare their portfolios for college and future internship applications. One of the workshops included a visit from Maria Figueira de Mello Gomes '20, who shared the portfolio she submitted when applying to Syracuse University's architecture program, which she now attends. Students learned how to compile, format, and create excellent architecture portfolios.


The Honors Architecture 03 class had an opportunity to participate in several Institute of Classical Architecture & Art (ICAA) workshops, including Arthur Wesley Dow Principles of Composition workshops. For two workshops, the ICAA's Ben Blythe discussed Dow's principles of design and students engaged in a series of exercises to prepare them for classical architecture and design problems.
They also participated in three workshops on the Tuscan Order with architect and urban planner, Philip Rhea. Mr. Rhea works for University of Miami professor, architect, and urban planner Teofilo Victoria and his wife Maria De La Guardia, who run a practice in Coral Gables. Organized by Ms. Wilson and Anne Finch of the ICAA, this marks the second consecutive year that workshops on the Tuscan Order were given at Gulliver Prep. 
Architecture 03 students later presented their designs to a panel of guests for their mid-year review critique of the Classical Water/Garden Folly. Mr. Rhea, Ms. Finch, and Cecelia McCammon critiqued their work as they prepared to submit entries to the Florida State Fair competition.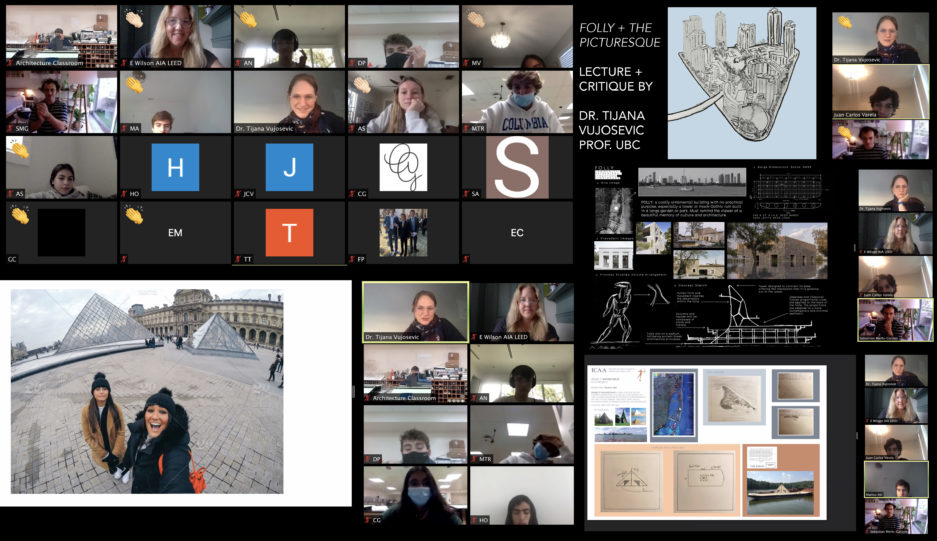 The Honors Architecture 02 class joined Honors Architecture 03 students for a lecture titled "The History of the Classical Garden Folly," by Mr. Victoria, who serves on the Board of the Institute for Classical Architecture and Art. Both classes also had the pleasure of hearing a lecture on the "Garden Folly and the Picturesque," by Dr. Tijana Vujosevic, an architecture professor at the University of British Columbia.
To close out the year, the Architecture Club hosted its annual Napkin Sketch Competition, inviting Christina Manrique and Victoria Casasco from Los Angeles to join in on the fun. Mrs. Manrique taught architecture at Gulliver for 40 years and started the Napkin Sketch Competition. A graduate of RISD and Columbia University architecture school, Ms. Casasco is a renowned architect, planner, and educator, specializing in residential design.
An active member of the Education Committee of the Florida Chapter of the Institute for Classical Architecture, and American Institute of Architects National's IDEA K-12 Architecture and Design Education Committee, Ms. Wilson will continue to offer beyond-the-classroom learning for her students in the spring.