Home >
We recently caught up with Bradley Delgado '15. Brad, known as Chef Brad on this season of Hell's Kitchen, recently spent time at our Upper School Miller Campus and did a cooking demo! Four students were chosen to be "contestants" in a mock version of the show where they had to recreate Chef Brad's dish. After the cooking demo, he shared with us a little bit about what he's up to now, some favorite memories from his time at the Upper School Miller Campus, and more!
What are you up to these days?
I am content creating and trying to get people to become better home cooks. Everyone cooks at some point of the day. I want to give people what I call the "Cuban Confidence" to do anything and everything in the kitchen, whether it be making a French onion soup, making a Cubano, making croquettes. You want a flavor memory in all of your dishes. A flavor memory is when you take a bite of food and your brain transports you to another time. Like, "Oh my God, this tastes like my grandmother cooked it!"
What do you like about the work you are doing now? Describe your career path.
What I love about my work is motivating people to just get into the kitchen and cook and realize that the hardest dishes you've ever seen are the easiest to make. You need to learn your mother sauces and learn your technique. Once you get that technique, you can cook any food in the world. Cooking is all about feeling, so that's what I want to teach people. When you're cooking, you listen to the food, you hear the food, you taste the food and then you're like ok, "What can I add to it? What can I take away from it?"
Is there anything you learned during your time at Gulliver Prep that you feel was helpful in your life after Gulliver? 
At Gulliver, I learned how to find and be in a support system. I went to the Miller campus, which, in my opinion, is the best campus ever. I felt like I could communicate really easily with all of my older classmates and teachers and found a support system for me. Because honestly, when you go up to your lawyer dad and say, "I want to be a chef!" and he's like "You're going to be poor and broke and die," having a support system that tells you you can do it and helps push you is so important. Gulliver also taught me a lot about how to be happy and how to tell a good story, which I use constantly in my career.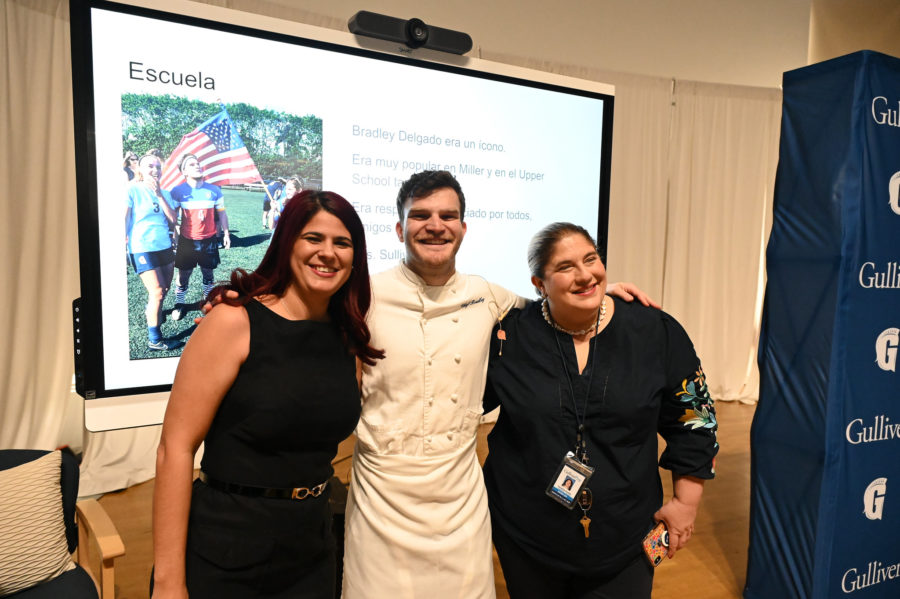 Are there any Gulliver teachers or coaches you credit as having positively influenced you? 
Ms. Sinatra was one of the best teachers/tutors I ever had. When I needed someone to look at pages and pages of essays for culinary school, I called her and ask if she'd have 20 minutes to review it. She said to just come, and however long it took, we would get it done. I credit her with getting into culinary school because that essay was trash! She made it into something so great and so poignant. It is something I will never forget. The teachers really were my conduits to success. They are the most supportive people and just want to see me succeed, even now.
What is one of your favorite memories from your time at Gulliver Prep?
There are so many… One time I went to a volleyball game because some of my friends were on the team. I looked at the crowd and realized there were only like three people and nobody was hyped up. So I asked my friends if I should bring a flag or something. They said sure, so I went to Michaels and bought the biggest flag I could find. The next volleyball game day, I walked in with a giant flag. It became this thing to get everyone behind the Gulliver teams. I started the "I believe that we will win!" with the banging of the flag that we did at all the games, including at states.
Another thing that came from that was the "Founding Fathers," where I photoshopped the faces of a group of my friends onto the bodies of presidents and we hung them all outside along G-Circle. On Raider Vision, we challenged all the best varsity teams to match ups against us. When we played against the state champion men's varsity soccer team, we all brought our own red cards and kept throwing people out, even if they hadn't done anything wrong until we whittled down the team to almost no players.
Those memories were absolutely the best.
As a Gulliver Prep alum, what advice would you give to current students?
Don't give up. Stay true to yourself. Find your passion and pursue it.  Robin Williams said, "You must never lose your spark." Everyone's instilled with a little bit of spark, and it just takes one experience or person to bring it out.  Carry that spark with you and let it show, because that's how you tap into your full potential.  You can't care what anyone thinks. Just do what you need to do and do you.  Work in silence and get to where you need to be.  People think that this career of mine just happened, but it was nine to ten years of solid work.
Raider Rapid Fire!
Favorite recent purchase from Amazon: Freeze dried candy (try it!) and Candy eyes for my Mummy Guava Graveyard
A song that you'll never get tired of hearing: "Native New Yorker" by Odyssey; anything from Styx, REO Speedwagon, Steely Dan, Tina Turner, Cher… I can't choose just one!
A food, restaurant, or meal that you're always in the mood for: Kraken Crudo in the Design District, Jholano's Deli in Coral Gables, and Bahamas Fish Market on Calle Ocho
Favorite cartoon character growing up: Scooby Doo and the gang!