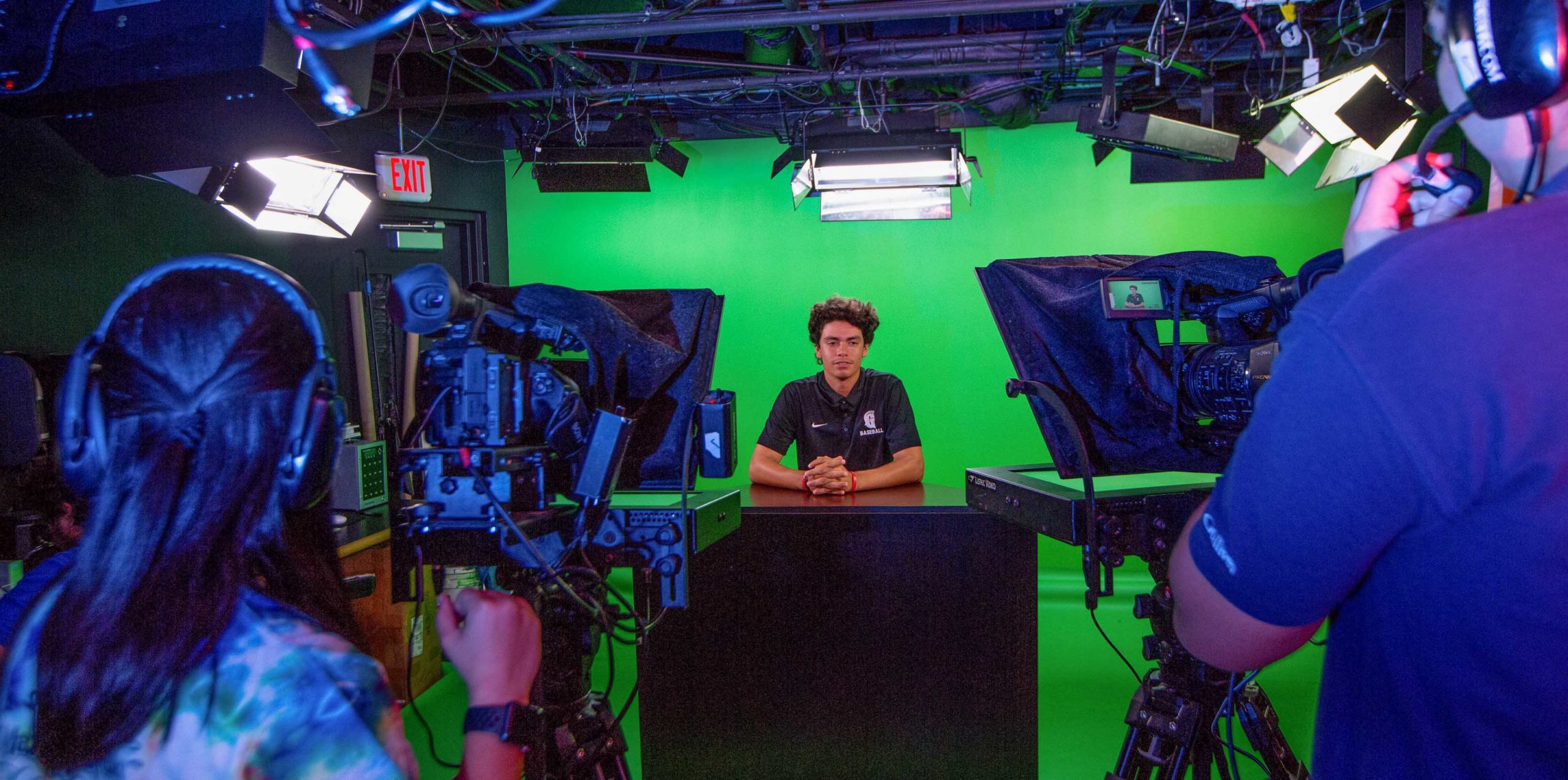 Hands-On Broadcast Program at Gulliver
Gulliver's broadcast curriculum explores the techniques, skills and specialized vocabulary used in the television and film industries. Students work in a team environment with a hands-on approach to operate complex technical equipment used in television production as well as video editing. Speech and Production in grades 6-8 lays the foundation for effective script-writing and storytelling. Ultimately, students have the opportunity to participate in the filming of "live" school activities including sporting events, performing arts shows, club activities, and community service events.
At the Preparatory level, students produce special features and reports for airing on RaiderVision, the live daily news broadcast. In Middle School, students are the driving force behind Raider Student Network (RSN), a news outlet for all things of interest to middle schoolers. RSN is a 3-5 minute segment written and produced by students. In Lower School, the morning announcements are anchored by students, with the support of technology faculty Cindy Gonzalez.
---
Broadcasts
Early Bird Broadcast
Grades 1-4
Broadcasting at the Lower School level teaches children in grades 1-4 the basics of television production. Students contribute to script-writing and become skilled in anchoring and reporting.
Students in this class are responsible for the daily production of the Early Bird Broadcast, the morning announcements for Lower School. In addition, students complete several projects in creative storytelling which allows them to understand production processes from start to finish.
Raider Student Network
Grades 5-8
Raider Student Network (RSN) is a daily news-style segment produced by Middle School students. Its purpose is to highlight sports, concerts, and special announcements, give middle schoolers their unique student voice, and help recognize teachers and students for their achievements. RSN will focus on the leadership and management of production process and help students think like television producers: analyze information, research, write and collaborate with their audience in mind. Students will learn Adobe Premiere software, how write for media, and develop public service announcements.
Raider Vision
Grades 9-12
RaiderVision is the in-house broadcast program for students interested in all aspects of television, film and digital media. Whether they want to be behind-the-scenes learning camera, lighting, editing and directing skills, or in front of the camera reporting on the day's hot news, RaiderVision prepares them for broadcast journalism and beyond. Through the production of a daily news show, students take part in documenting campus activities and give a voice to peers, teachers and administrators.
---
TV Broadcast Faculty Contact